There are a lot of regional foods in New York State besides Buffalo wings. Spiedies (a sort of lemony, Italianate kebab) are a specialty of Binghamton. While Beef on Weck—roast beef served on kummelweck, a roll studded with coarse salt and caraway—is Buffalo's less-well-known bite. "Utica Greens," served in its namesake city, is a complex sauté of escarole, hot cherry peppers, prosciutto, and garlic. In Plattsburg, "Michigans" are steamed Red Hots. These are cured and smoked hot dogs in a top-split bun with chili sauce, raw onion, and mustard. In Rochester, you'll find White Hots. Pale, unsmoked, and uncured sausage of beef, pork, and veal, served griddled—and that town's infamous Garbage Plate.
Originally called "Hots and Potatoes" at the restaurant that invented it—Nick Tahou Hots, reputedly in 1918—the dish is a rib-sticking pileup of starch, meat, onions, and sauce. Colloquially called "Hots and Po-tots," its original components were fried potatoes, baked beans, hot dogs, onions, mustard, and a meaty, chili-esque sauce. But in time, the Rochester Garbage Plate became much more expansive. The starchy substrate could be home fries, macaroni salad, mac and cheese, French fries, or even pasta. "Meat" could be the original hot dogs, or cheeseburgers, eggs, or even fish. Whichever you chose, the plate came with raw onion and the classic sauces: saucy chili and school-bus-yellow mustard.
At Brooklyn Hots in Clinton Hill, Chef Brian Heiss nods to his Rochester roots with a "Trash Plate." So called because Nick Tahou Hots in Rochester trademarked the name "Garbage Plate." Instead of commodity ingredients bought in shameful bulk, Heiss sources his ingredients (mostly) seasonally and locally. Though he does import Zweigle's sausages from Rochester. Ordering a Trash Plate at Brooklyn Hots is very much a self-directed journey—choose two proteins (hamburger, cheeseburger, white hot, red hot, grilled chicken, egg, bacon, or plant-based burger) and two sides (home fries, macaroni salad, French fries, coleslaw, broccolini, or a side salad). As ever, toppings are represented by the garbage holy trinity: raw onions, meat sauce, and mustard. Despite plating that resembles René Redzepi's worst nightmare, Brooklyn Hots is wildly popular. Just try getting a seat.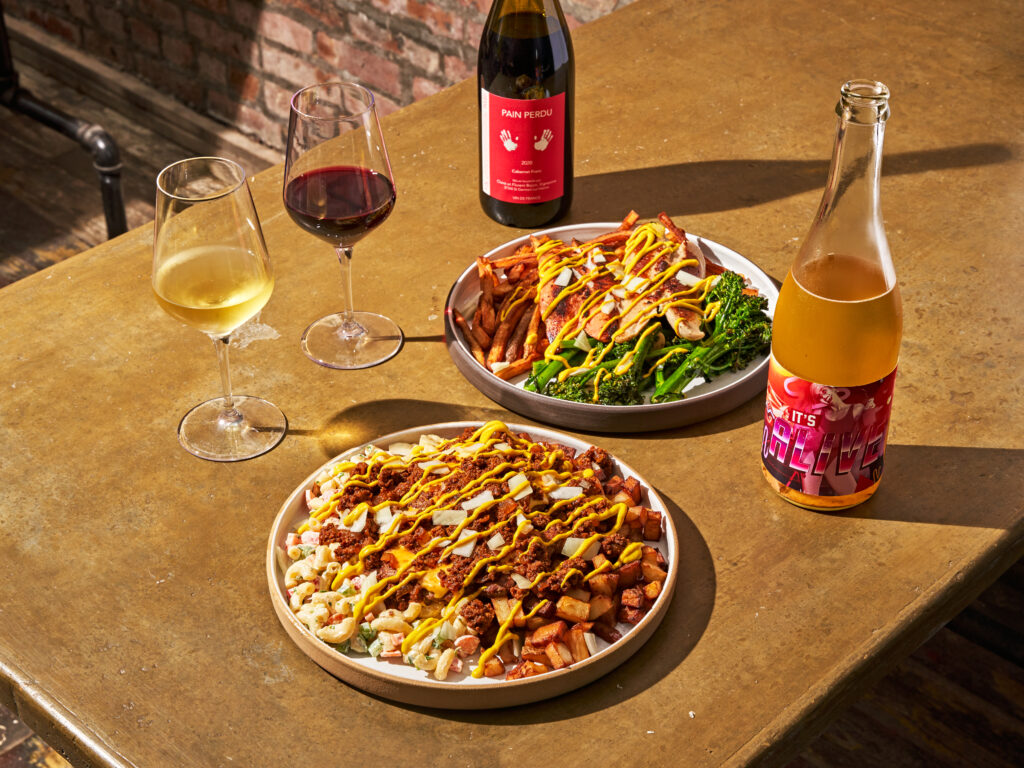 Taking a page, Chef Greg Baxtrom (of Olmstead and now Patti Ann's, a "Family Restaurant" in Prospect Heights that serves up craveable Americana kitsch like Port Wine Cheese Balls, Cherry Ketchup Glazed Duck Meatloaf, and a Bloomin' Onion), he's whipping up $18 Garbage Salads. The name of the dish might be trashy, but its intentions are pure: it's composed of whatever perfect seasonal greens the kitchen has to spare. Garbage: It's a thing.
RELATED: James Beard Nominee Chef Calvin Eng of Bonnie's is Reclaiming MSG