In the Spring 2022 issue of Edible Manhattan, I did a story on the Billion Oyster Project, which evolved into a deep dive into New York City's historic oyster culture—of which there is a LOT. (If you're interested, read Mark Kurlansky's fascinating book, The Big Oyster—much of the historic background of this article is both inspired and informed by his work.) It struck me that New York City had once been as notable for its native oysters as the city of New Orleans is currently, which—with its po'boys and loud beer bars serving giant, mild gulf oysters—is still an oyster town, while New York City is not. Our once standard oyster carts are forgotten (with this notable exception), and no one today remembers the "Canal Street Plan," which was all the oysters you can eat for 6 cents. We no longer recognize that red muslin wraps on a lantern indicate an oyster bar within. Tragically, you'd be laughed out of town if you pronounced "oyster" in the native dialect that my grandfather used; he worked on a tugboat in N.Y. Harbor and pronounced the word, "erster." An entire New York City food culture seems to have vanished.
Well, not quite.
In my article, we used a well-known photo taken in 1937 of two oyster barges docked under the Manhattan Bridge on South Street and Pike Slip. "Barge" is an ungenerous word for these long, narrow structures, whose street-side facades had plentiful, ornate windows; intricately bracketed overhangs, and elegant signage. The barges that lined South Street are sometimes called houseboats—and that's closer to what they were. The barges weren't vessels; rather, they were semi-permanent moored structures that jutted into the East and Hudson rivers. Oysters were loaded directly from boats through the river faces of the barges. Once inside, the oysters were packed into barrels, shucked and canned for shipping, or sold live to local vendors and consumers who carried their purchases, in the case of the photo, out the South Street door, up a ramp, and then into the city. Huge piles of oyster shells amassed on South Street, waiting to be carted off to make lime.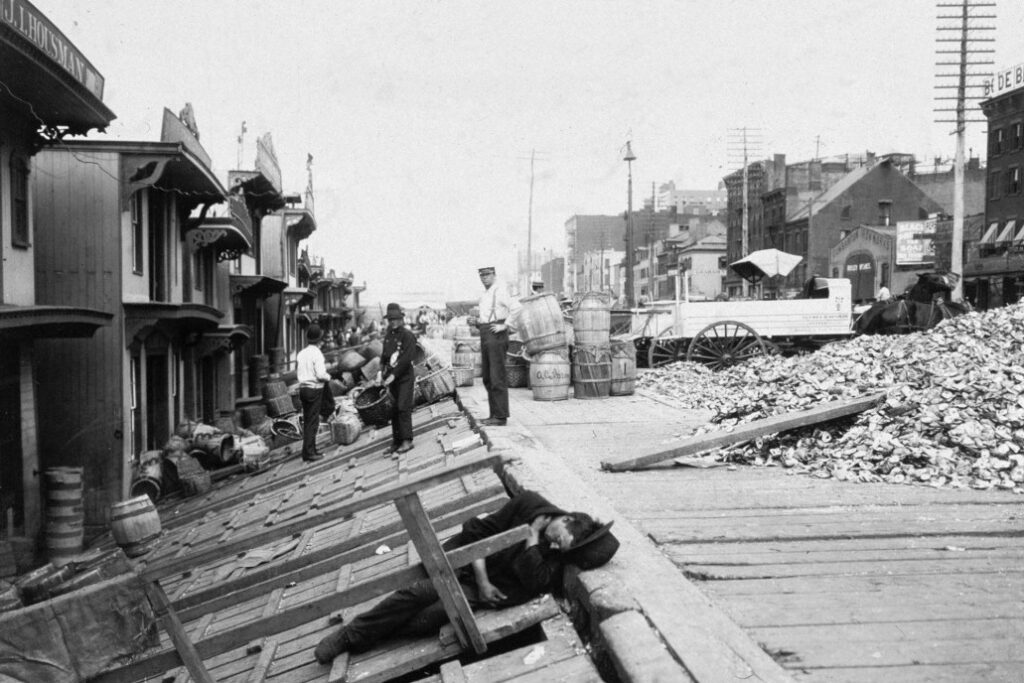 RELATED: The New York City Oyster: Crassostrea Virginica
There is one remaining artefact from NYC's oyster barges. As this New York Times article reports, in the 1920s (well into the decline of NYC's oystering days), one of New York City's ca. 1850 barges was moved from "Oyster Row" on the Gansevoort Pier on the Hudson River to Fair Haven Marina on the Quinnipiac River by that marina's owner, Ernest Ball. Once there, its mooring was surrounded by landfill and the barge was used serially as a speakeasy, a restaurant, and then finally as a dive bar, before being shuttered for good in 1987. It moldered on site, so unsound that it couldn't be used for storage, until two Manhattan restaurateurs, brothers Alex and Miles Pincus, bought the wreck with the intent of returning it to New York City and opening it as a restaurant.
It sounds outlandish, but the Pincus brothers have some experience with this. Their business model is to combine maritime preservation with their restaurants; they own Grand Banks, an oyster bar operating in a ca. 1942 schooner docked at Pier 25 in Hudson-side Tribeca, and Pilot, a seasonal oyster bar operating on a 1924 racing schooner moored at Brooklyn Bridge Park's Pier 6. Currently, the oyster barge is being restored by a shipwright and a team of boat builders at the Atlantic Basin in Red Hook. The Pincus brothers are hoping to retain as much of the original material as they can, and they will be recreating the barge's original dimensions, 17 feet wide by 70 feet long. There is no word yet about where the barge will be stationed and when it will open. But, starved as I am for any scrap of New York City's fascinating oyster history, I can't wait.
Feature photo courtesy of Crew NY.