Growing up in the Bronx, pastry chef Emily Rodriguez says, "There was no fine dining around me; no one in my family was a chef. I just knew I needed a way to express myself." Rodriguez credits her path to a high school guidance counselor, "who was really invested in me. She set up a program and sent me to different places so I could get an idea of what I liked." Although law and media didn't interest Rodriguez, food did. The counselor suggested a culinary arts program.
Rodriguez was a practical teenager. She investigated programs at CIA (Culinary Institute of America) and Johnson and Wales University but she knew her parents couldn't afford the tuition. "I didn't think it would be wise to take out loans, so I went the City Tech route; the risk was low, and I would have time to figure other things out." She took culinary and hotel management courses from 2008-2013. While in school, she worked in kitchens. She says, "After getting some hands-on experience, I started to feel that general culinary wasn't for me. Then I decided to do pastry and knew I needed to be in this industry."
Rodriguez rose in the fine dining segment of pastry—including at the elegant, Cantonese Hakkasan in mid-town Manhattan—then worked with her former mentor to open Patisserie Chanson. There Rodriguez gained business and financial management insights. Later working with Chef Suzanne Cupps at Untitled at the Whitney Museum, Rodrigues learned what she defines as "a different side of management. How to care for my employees and the importance of support from senior management." Each step brought personal and professional growth."I always felt strong in my abilities but stepping away from my former bosses was a self-test. I didn't expect to learn all of these lessons. "
The lessons became pivotal when Rodriguez lost her job during the Covid pandemic. She says creating her own pastry business was "not planned out—it sort of happened. I was baking at home. I live by myself and wanted to keep using my skills, so I started selling things via social media. A lot of people were doing this. I thought that if it works, it works: if not, I tried." It worked! Interest in Emily Made This!—desserts from a restaurant pastry chef—was high, and Rodriguez contacted influencers. She reorganized her apartment to have the flow of a professional kitchen—clearing off counters and finding new spots for things like her toaster. She personally delivered all orders in her car. She says, "It was a crazy time. It felt like the wild, wild West. Everyone was just trying to survive. "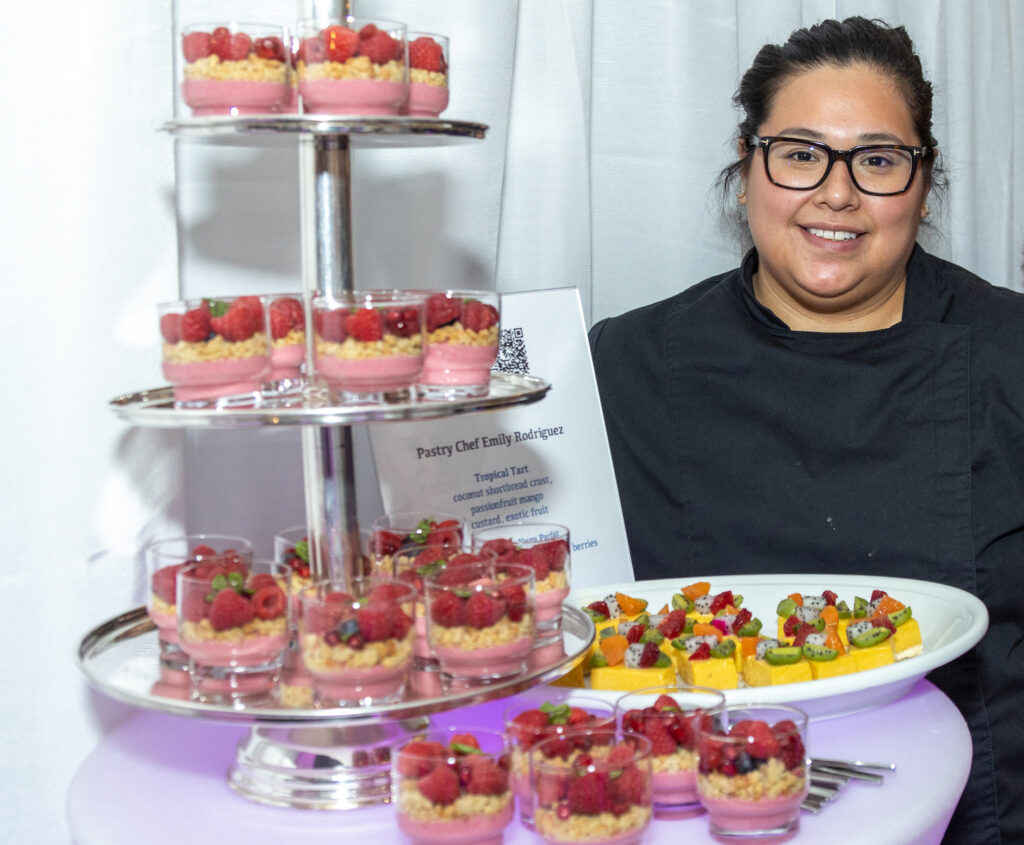 In the fall of 2021, Rodriguez discovered e.terra Kitchen. She was taking a professional class with Valharona Chocolate, she says, "craving being around other chefs and having those conversations." Asking for job advice, someone mentioned that a new commercial kitchen had opened. "When I found it was only 10 minutes away from me, I took it as a sign." Moving into e. terra in November 2021, Rodriguez immediately increased the efficiency and capacity of Emily Made This! with more counter space, twice the oven space, a walk-in fridge for cooling and storing ingredients, dry storage and a blast freezer for quick cooling, Rodriguez also gained peace of mind amid mounting holiday, birthday and other orders—including those from a catering company that had lost its pastry chef, an account fostered by e.terra on her first day there.
As Rodriguez considers her next steps, they don't seem to include returning to restaurants. "I could go back to work at a restaurant, but I want to see where my vision will take me. Because of the pandemic, I was selling to individuals, but now I want to fulfill bigger orders—parties, events, and maybe restaurants who cannot afford a pastry chef because I can produce things more efficiently." Rodriguez wants to be flexible, recognizing that the environment continues to change. She thinks about experimenting with cannabis as an ingredient, "making something beautiful and delicious and having plant medicine in it … or not," she says.
Perhaps that will make its way into her favorite treat, s'mores. "When fall comes around, I just start putting marshmallows on and torching everything!"
Photos courtesy of Emily.