Bella Karakis, CEO and co-founder of e.terra Kitchen in Harlem, opened her doors in April 2021. In just over a year, the commercial kitchen hosts more than 40 small businesses, and has become a hub for educational, social and community events. It's also expanded into the La Marqueta kitchen space nearby. Karakis's lifetime of striving, adapting, failing, and redirecting is its driving force.
With 5500 square feet, e.terra is billed simply as "a flexible commercial kitchen space … for food and beverage startups." Located on two floors, it offers gleaming equipment, work, and storage space prized by users who are mainly restaurant and catering chefs, bakers, and makers of packaged foods. Beyond these physical resources, Karakis commits to delivering what she calls "the service support model: making connections and finding opportunities yielded by 24/7 networking." She explains her inspiration: "I understand what it is like to be in their shoes and what it is like to fail."
In 2007, Karakis lived in Stamford, CT, juggling her career as an intellectual property attorney and raising three children. She was stretched and stressed. "I was burnt out on law. I was dealing with a lot of unhappy people and didn't feel like what I did really mattered." Biscotti became her escape plan. "I developed a number of recipes based on my grandmother's biscotti and worked with a consultant to help me with the marketing." Karakis and her kids worked together in the kitchen and hung promotional signs for the holidays. "We sold out! Everybody loved them," she says.
As demand grew, Karakis realized that she needed more space, but the nearest commercial kitchens were in Queens or Rhode Island. The extra distance and expenses would crush her business model. Shutting down was deeply disappointing, but Karakis is no stranger to adversity.
She was born in Odessa, Ukraine. At age 8, Karakis and her family emigrated to Alabama; it was jarring (they had wanted to go to Israel), but Karakis adapted. After graduating from the University of Pennsylvania, Karakis built a career on her ability to focus, multi-task and excel—and dramatically switch gears. After graduation and five years in a retail management program, Karakis got a real estate license and decided to study law. Her legal career was expansive—20 years with clients and connections in more than 120 countries—but ultimately, Karakis was not fulfilled.
Gravitating back to food, Karakis co-founded a mobile food operation in Virginia. Three years in, she recognized the bigger need: commercial prep kitchens for the exploding world of food trucks and artisanal food makers, exactly the kind of kitchen she lacked for her biscotti. By 2018, she co-founded Chefscape in Virginia, an incubator for food and restaurant startups.
By 2019, Karakis had been investing time, money, and energy to expand Chefscape to Manhattan—sadly, her partnership fell apart. She says she faced "a lot of pain." Dusting herself off, Karakis continued to chase the dream amid the Covid pandemic. She locked down a deal in Harlem in early 2021, determined to hit the ground running.
E. terra's management team includes Director of Marketing, Amy Lee and CTO Eugene Kharlamb. Karakis says, "We understand the pain the entrepreneurs go through to follow their dreams. We're creating an atmosphere where they can thrive." Lee prioritizes win/wins: "We try to cross-pollinate opportunities with everyone: vendors, partners, sponsors and members."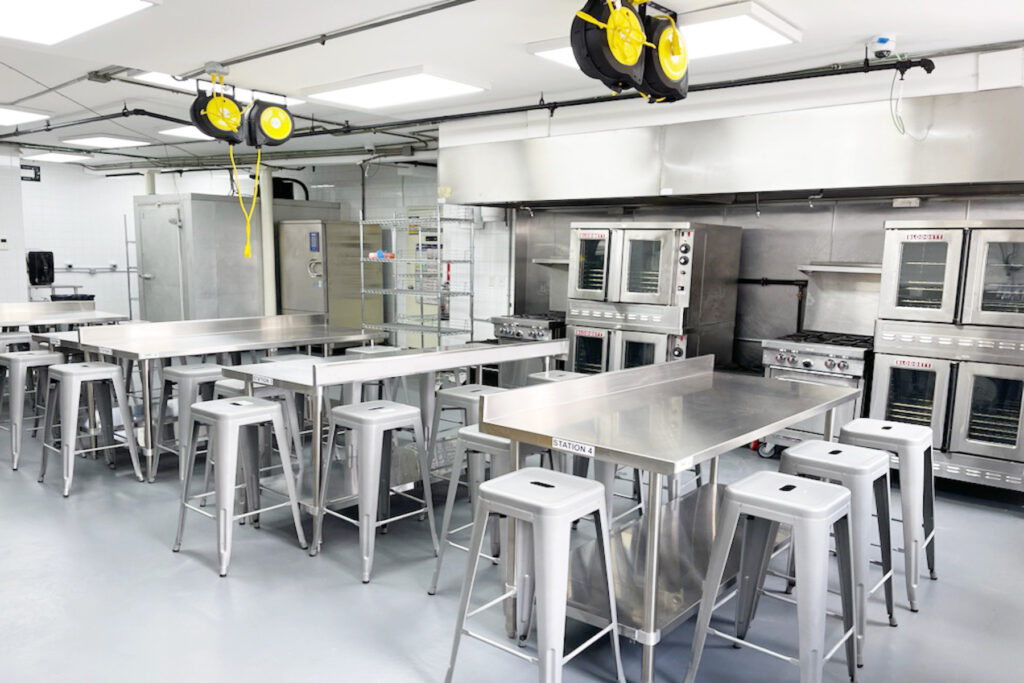 Karakis' flexible model at e. terra includes its space, which offers opportunities for collaboration and networking across its two floors. Further, for its members, e terra organizes educational events, professional demonstrations, private dinners, and large, community-engaging galas. On International Women's Day, guests stepped off the freight elevator into a Cinderella scene with walls draped in billowing fabric—waitstaff served wine, cocktails, and member-produced bites. Acute Inflections energized the crowd, as did an all-star culinary panel anchored by Harlem restaurant icon, Melba Wilson.
Surely a special evening, and representative of Karakis' distinctly e. terra recipe providing value across the e. terra ecosystem and the Harlem community. Meeting goals means she doesn't want to leave anything off the table. "My door is always open to all opportunities … I'm getting inquiries every day through every channel. But we're not hitting it all out of the ballpark yet. It takes time."
Photos courtesy of e. terra Kitchen.