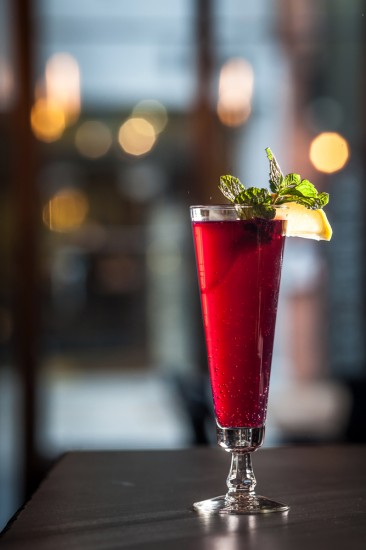 Kvass, a slightly fizzy, naturally fermented drink from the Old World, is traditionally made from rye bread, beets or even sometimes lettuce (read more about kvass here in Edible Brooklyn). This kvass cocktail was shared with us by the folks at The Gefilteria–a Brooklyn-based boutique purveyor of Old World Jewish foods. The beet kvass, which you'll find at Zabar's near the cheese counter, lends a ruby hue to the drink.
Ingredients:
4-5 mint leaves
Squeeze of agave or simple syrup
3 parts Beet Kvass by The Gefilteria, chilled
1 part gin
1 part club soda
Squeeze of lemon

1. Place the mint and simple syrup or agave into a collins glass or an old fashioned glass.
2. Muddlewell to dissolve the sugar and to release the oil and aroma of the mint.
3. Add the kvass and gin and stir well.
4. Add ice cubes (optional, if you prefer on the rocks)
5. Top with the club soda and lemon and give a little stir.
6. Garnish with lemon slice and mint sprig and serve.