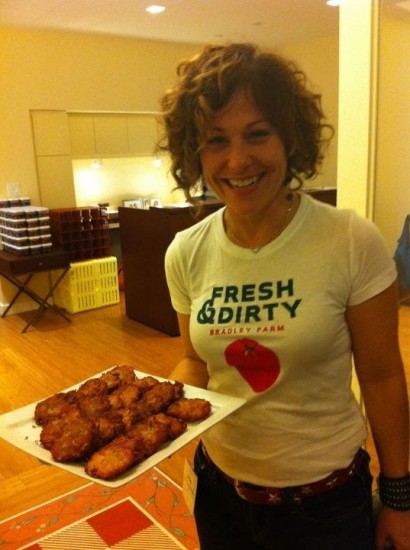 Now that we've tested our spud-mashing skills at Thanksgiving, it's time for those of us celebrating Hanukah to turn our attention to the potato pancake. Specifically, the third annual Latke Festival our sister publication Edible Brooklyn is putting on with Great Performances at the Brooklyn Academy of Music on December 19th. (If you haven't snagged your ticket here, now's the time.)
This Food Network-style throwdown (or at least, as Food Network as Edible can be) will feature the exquisite fritters from 15 New York chefs and Dori Fern, the talented and feisty amateur who won our latke recipe contest. See more about the Brooklynite and her double-happiness/five-spice approach below.
In fact the entrants (which include both Jewish and non-Jewish cooks) come from all culinary backgrounds–from Basque-style Spanish to French Bistro to South American–and their latkes will too. There's talk of saffron-scenting, root-crop medley melding and even spicy, Chinatown scallion pancake style variations on a dish that typically includes nothing more than potatoes, onion, garlic, egg, and maybe Matzo meal. And don't forget garnishes and dipping sauces—from a dusting of sugar to applesauce, from ketchup to duck confit.
At the end of the night, two latkes will be crowned after a popular vote by attendees (that means you), and a determination by our esteemed panel of judges, including James Beard Foundation's Mitchell Davis, Borough Prez Marty Markowitz, The Times's Melissa Clark and our very own deputy editor Rachel Wharton.
Speaking of determination, a few weeks back we asked our readers to submit their own special latke recipe, for a chance to win a swank Breville stand-up mixer and to prepare their winning submission alongside the professionals. We received nearly 60 entries, all packed with history and passion. Our favorites were those that dipped not just into their personal culinary roots (honoring influential mothers and grandmothers), but also those that mined their contemporary foodshed connections by including other seasonal ingredients.
One of those was Dori Fern, who will attend to make her Double-Happiness Potato Latkes topped with Five-Spice Duck Confit. We were swayed by her spunky narrative, her decades old quest for the best latke in New York City (chronicled in an article she wrote for Time Out NY in 1998) as well as her seasonal riffs that include topping with peaches, corn, and in this case, Greenmarket-sourced duck.
For many years now, says Fern, she has been on her "own kitchen journey to exact the essence of latke greatness," and she now favors a recipe free of added flour or matzoh meal (a gluten-free version, in essence). "The method I discovered, of incorporating the potato's own starch back into the potato mixture is one favored by some Bubbies of yore, though my own mom and grandma were not latke mavens like I am (ever practical, both women used a food processor to grate their potatoes, a shonda far as this hand-grater is concerned)."
We were confident that such chops would make Dori a formidable competitor, unintimidated by professionals aided by prep cooks and commercial stoves. Dori's recipe will be on display at the event, and we hope you'll join us. We would also like to recognize two honorable mentions, who will each receive a pair of tickets to the event: Susan Palmer's Squash and Potato Latkes, inspired by the abundance of squash she had from her CSA this past year. Susan blogs about what she eats at  The Girl In The Little Red Kitchen. And, Amie Valpone's Lavish Purple Fennel Latkes with Apple Butter, which use purple spuds and are also gluten-free. Amie blogs at The Healthy Apple.
Thank you to all the entrants and we look forward to kibitzing, tasting and judging, on December 19. Get your ticket to the Latke Festival here.