On a Friday night in Chelsea, the establishment on the corner of 9th Avenue and 13th Street is alive with 20-and-30-somethings in their Fashion Week best. People spill onto the street, crowd favorite songs play over speakers, and toasts are made. It looks like the busiest bar on the block, but one thing sets it apart: no one here is drinking alcohol.
This is Absence of Proof, a "non-alcoholic nightlife option for anyone taking a night, week, or lifetime off of drinking." The pop-up offers a menu of eight mocktails—spanning classics like margaritas to faddish espresso martinis—and five canned non-alcoholic beverage options, some of which include kava or CBD additives. The event looks, feels, and even tastes like a regular bar. Hosted at Kobrick Coffee Co., Absence of Proof not only welcomes, but celebrates, partiers seeking a sober alternative to booze-filled nights out.
Guests are drawn to Absence of Proof for a variety of reasons. Some abstain from alcohol due to health or religion, while others might enjoy a glass of wine before the event but don't want to spend their evening drinking. One woman was celebrating 90 days of sobriety after what she says were "one too many blackout nights." While everyone's relationship to alcohol varies, the crowd was united in thinking that you don't need to drink to have a fun.
For founder Elizabeth Gascoigne, this concept is key to Absence of Proof's mission. The idea came to Gascoigne three months ago; the inaugural pop-up event came just a month and a half later on August 5th. As someone who herself chooses not to drink alcohol, Gascoigne noticed a lack of nightlife options in New York City that aren't centered around drinking.
"New York is definitely party-centric, and I don't even think that's a bad thing. I love New York energy and going out, but when I decided to quit drinking for health reasons and to better my life, there was nothing to do," Gascoigne says. "I was like, 'Okay, I don't think I'm the only one that feels like this. What if I tried throwing parties with no alcohol and see if people show up?'"
And people did show up. Interest in the event coincides with the rising "sober-curious" movement. Sober-curious individuals might not wholly cut alcohol from their life, but they strive for a more intentional relationship to alcohol. On a night out, instead of a few drinks, sober-curious partiers may nurse one cocktail. They may not drink liquor, but will enjoy wine with dinner. The sober-curious lifestyle encourages consciousness of one's relationship to alcohol; it doesn't demand giving it up completely.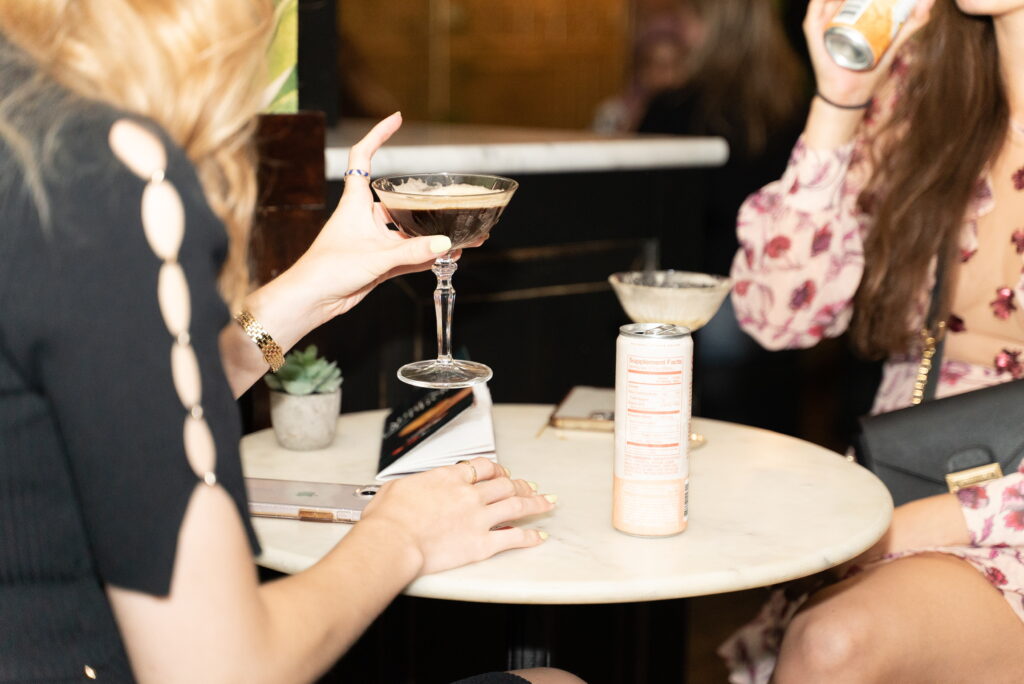 This movement resonates particularly with Gen-Z and Millennials, who Gascoigne believes are "more conscious of health and how alcohol is affecting them." Demand for alcohol alternatives is booming. According to Ritual Zero Proof, a spirit alternative, the rise of non-alcoholic sales rose 33.2% from 2020 to 2021, and Zero ABV spirit sales grew 113.4%.
Absence of Proof still replicates the ambiance of a traditional night out. While non-alcoholic beverages at bars and restaurants are typically limited to water, soda, and juices (the latter two of which can be high in sugar), the mocktails here are not merely absent alcohol; instead, they showcase liquor alternatives designed to maintain the integrity of cocktails by providing the flavors of spirits without the buzz. Here, a paloma tastes like a paloma, rather than a glass of grapefruit soda and lime.
Ritual Zero Proof, the fastest-growing spirit alternative in the US, is one of the sponsors of the event. The company has supported Absence of Proof since its inception, providing products for events.
CEO and co-founder of Ritual Zero Proof, David Crooch, has been surprised by the interest in non-alcoholic alternatives from 25- to 34-year-olds, who make up 20% of Ritual Zero Proof's consumers. "The younger generations, they don't want to drink as much," he says. "It's just not important to them. However, they still want to go to the bar. They want to go to the club, they want to go dancing, they want a drink in their hand. They don't care if it's alcoholic or not."
One patron, Carla Velasquez, found the event through TikTok (as many of the guests did) and invited her friend Sophia Dijan, who can't drink due to health reasons. Dijan also can't have things high in sugar, which includes most alcohol alternatives found at bars.
"I never cheers people," says Dijan. "It's bad luck to cheers with water." Instead, her friends toast without her, and she's excluded from a ritual most take for granted. But at Absence of Proof, she smiles with a mocktail in hand. "We cheersed today."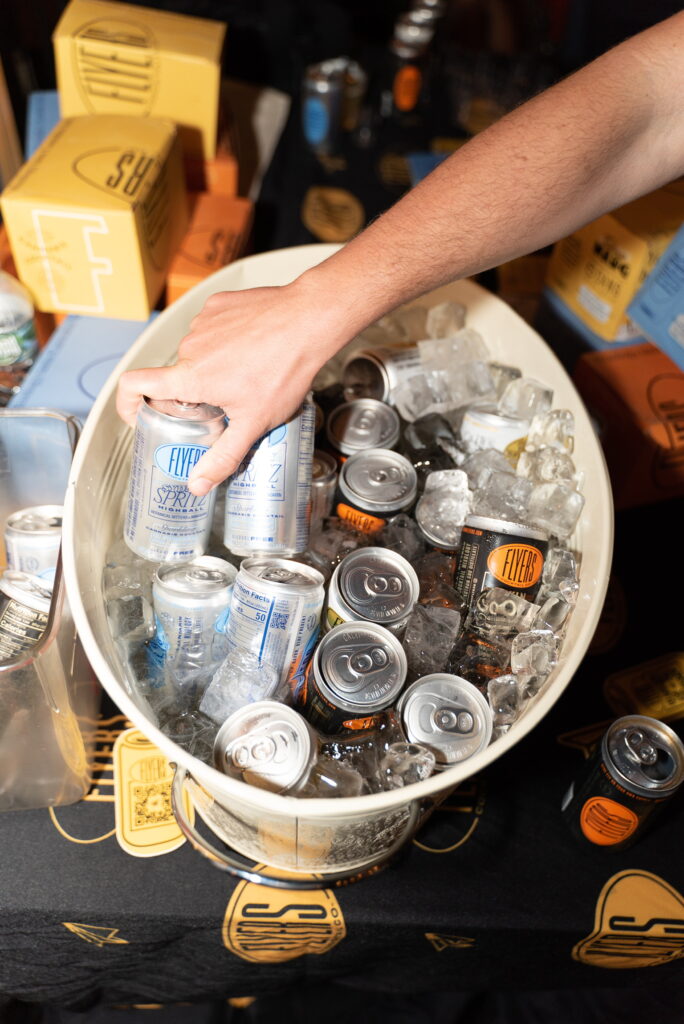 Community and inclusion are at the forefront of Gascoigne's mission. "We're bringing together a group of people who are like minded, who are making healthy decisions with their lives, who just want to take a night off."
The future of Absence of Proof is developing every day. Gascoigne plans to continue curating pop-up events in NYC, with a month-long residency at Kobrick Coffee kicking off October 8th. She hopes to expand beyond pop-ups as well. Her concepts include national alcohol-free events, beverage menu curation at weddings and corporate events, a mocktail recipe book, and more. Absence of Proof—with the determination and vision of Gascoigne at the helm—may become a leader in alcohol alternatives, and also change drinking culture at large. Cheers to that.