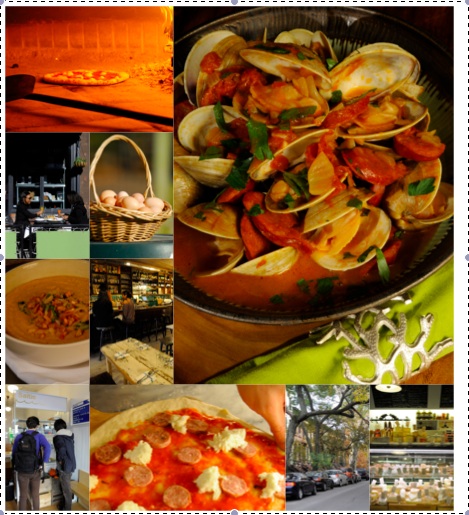 When the Edible Brooklyn: The Cookbook was published back in October, it was intended to be a community cookbook, a snapshot via 100 collected recipes from the cooks in the Brooklyn community, be they restaurant chefs, gardeners, grandmothers, pickle-makers, cheesemongers, brewers, bakers or baristas.
Needless to say that's sparked plenty of discussion on what real Brooklyn food is, and whether it's any different or better than the borough of Manhattan's.
The Lower East Side Tenement Museum is going to let you talk it out on January 17th with the help of a panel of expert Brooklynites and cookbook contributors at the Tenement Museum, which hosts a series of excellent talks, many free, in its spiffy new visitor center on heady city subjects like these.
Our guests, in addition to Edible editors, will be Steve Hindy, who co-founded the Brooklyn Brewery in the 1908s inspired partially by Brooklyn's 19th century brewery history; Harry Rosenblum and Taylor Erkkinen, co-owners of The Brooklyn Kitchen, which is ground zero for Brooklyn's contemporary DIY food scene (Rosenblum also has plenty of Brooklyn family cred, going back to the rum-running days); and Lou Di Palo, who runs the century-old, famous family-fun specialty food business called Di Palo's Fine Foods right here in Little Italy, but lives in Bensonhurst, near his mother Concetta.
That's three very different Brooklyn perspectives, and we're hoping they'll comment not just on what Brooklyn is or isn't or used to be or has lost over the years or gained in recent decades, but maybe a bit how it differs from Manhattan, or New York City at large. (And did we mention that food from the book will be served as well? Plus Brooklyn Brewery beer, with any luck.)
The talk will be $10–or $20 if you want to buy a book, too–and will be held at the Museum Shop at 103 Orchard Street. RSVP to events@tenement.org — note that seating is first-come, first-served, though you can reserve a seat if you buy an advance copy of book from the museum at 212.431.0233 extension 259. Get ready to think deeply and geek out on the food culture in the borough of Kings.