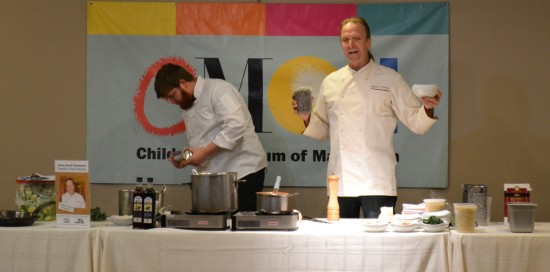 Forget Yo Gabba Gabba Live!, take the kids to the Family Chef Series. It's  a new program from the James Beard Foundation, held at the Children's Museum of Manhattan on the Upper West Side.  The James Beard Foundation Family Chef Series series aims to teach parents and children how to prepare food that is simple, affordable and delicious by bringing in renowned chefs such as Bill Telepan,  Alex Guarnaschelli and Michel Nischan, shown left, to lead cooking demonstrations geared for kids.
Last week, chef Nischan–the owner and founder of Dressing Room in Westport, Conn.; CEO of Wholesome Wave Foundation; and father of five–put on an entertaining and age-appropriate cooking demonstration for an excited audience and their parents.   On the menu? Ancient grains "Risotto" style,  a popular dish at his restaurant that appears in his cookbook Sustainably Delicious.
Heavy on the veg, it  didn't initially seem like it would be a hit with this age bracket, Nischan knows how to appeal to an audience of youngsters, seeing as he has plenty of his own.  The key to keeping such an audience engaged and seated for 30 minutes was to keep the demo interactive and lively.
Nischan started off the demonstration by asking who knew what the White House was, and after getting several nods, regaled the audience with a few tales of working in the First Lady's garden.  But what got the room really excited was the arrival of a stalk of kale, passed around for the brave to sample.  Then the cooking began when one little boy waved the stalk and exclaimed, "I'm hungry!"
Nischan also taught the kids about safety in the kitchen by being silly, peeling a carrot while dangled it in the air and having the peels fly all over the audience, which were eaten by one little girl, who proclaimed that they were her favorite. We approve.
The next installment in the James Beard Foundation Family Chef Series features chef Michael Lomonaco on Wednesday, April 11th at  2:00 pm and 3:30 pm at the Children's Museum of Manhattan at 212 W. 83rd Street.