Cake Generation
Scrolling through the Instagram accounts of @frostedhag, @gigislittlekitchen @cakes4sport, @cakes_for_no_occasion, @bodega_cakes, @yip.studio_ and @yungkombucha420 is a deliciously dizzying experience. Sumptuous mounds of consumable art fill the screen. Fondant oozes from unidentifiable orifices. Dribbles of icing run down lopsided tiers. Neon splattered chaos seeps into crevices, blurs frosted florals and puddles at the base. If perfection is present, it's contrasted with clashing, garish tones. Gone is the restrictive, impossibly-pristine standard set in place by the Wilton cake empire during the '50s. Instead, these post-millennial bakers, most of whom found their calling during lockdown, go wherever the fondant leads them. Rather than the other way around.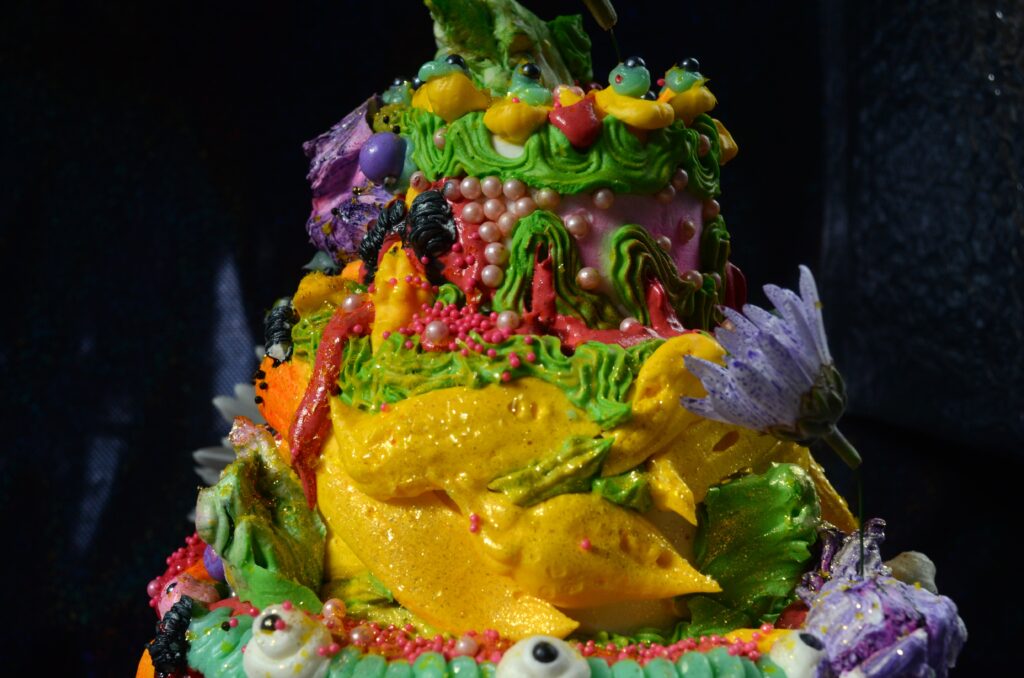 Billie Bello goes where the fondant leads her. Photo Courtesy of @cakes_for_no_occasion.
Cake Isn't Just for Looking Pretty Anymore
"The decorating process is very intuitive," says Allie Gelles of @cakes4sport. "I usually give myself the freedom to do whatever feels right for the ingredients I'm working with." That might mean olive oil cake with plumcot sage jam and crème fraiche buttercream, loaded with fruit and flowers. Which is then hand-morphed into a sandcastle that looks perilously ready to topple. But structural suspense is all part of this new aesthetic. "Perfection tends to look so 'designed' that it doesn't feel edible." says Billie Belo of @cakes_for_no_occasion, whose highlighter-bright Y2K confections are often stacked to delirious heights, with unapologetic leanings in one direction or another. "My cakes aren't just for looking pretty," she adds. "I draw viewers in with crazy colors and textures. What I really want is for people to destroy them and eat them with their hands."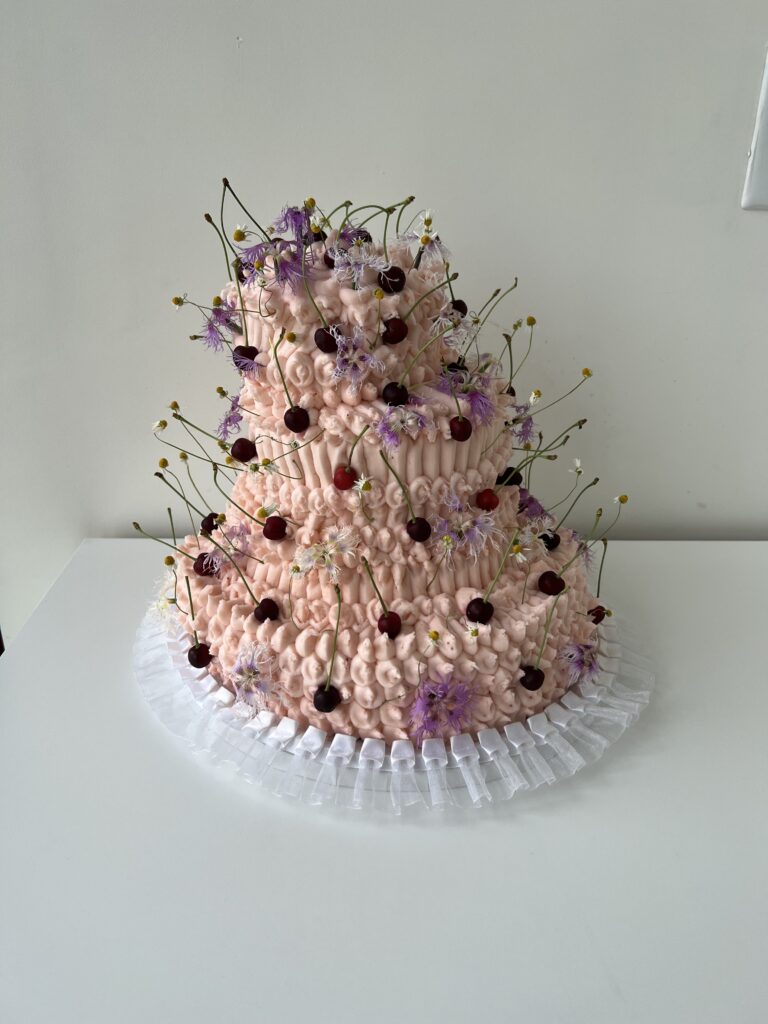 Sexy Cake
That epicurean side of the experience, which resonated with a host of Instagrammers during the stuck-at-home period of the pandemic, also captivated food writer Aliza Abarbanel. Inspired by these rule-breaking bakers and the followers they were amassing, she started Cake Zine (last issue titled: Sexy Cake) with friend Tanya Bush, back in April. "Sex and cake are both sensory experiences tied to pleasure," she says. "Watching these bakers' processes play out on Instagram is a culinary thirst trap. You're not necessarily going to get that moment of completion, but it's titillating, all the same." The duo's first issue features a history of erotic bakeries in New York City and an essay by a Mormon writer regaling the lusts of flesh and cake.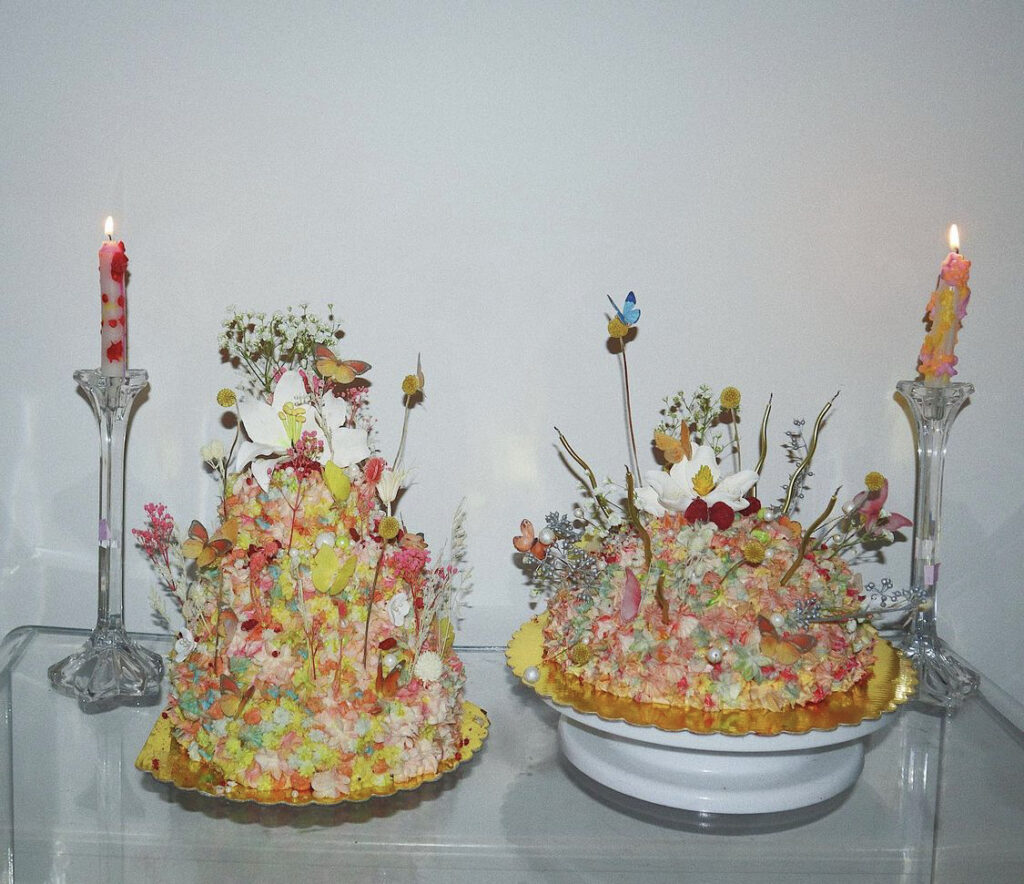 The Opposite of Uniform
Carnal cravings aside, the bakers themselves believe the appetite for their confections comes down to unmet platonic desire. "Post-lockdown, there was a lot to catch up on with loved ones." says Lulu Prat of @bodegacakes of the moment her business took off. "Whether it's jovial or somber, a beautiful cake brings a certain amount of happiness with it, it's the focal point at a party and a great way to bring people together." Billie Belo of @cakes_for_no_occasion, agrees. "People want to create moments that are special right now, and they don't want everything to look the same. It's the opposite of the uniform, corporate, capitalist system they've fallen out of trust with and feel used by—there's a human element here. These cakes look and feel entirely handmade."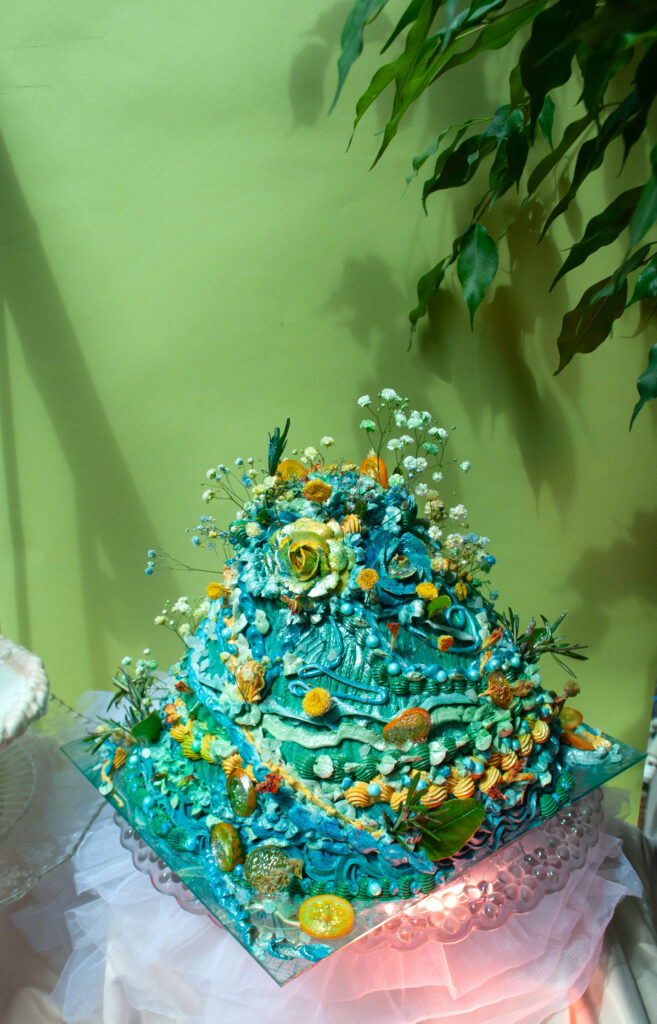 Cake: It's Trending…
From farm-to-table restaurants, to artisanal beauty products and fashion labels, the rush for businesses to join the slow movement, as the impact of climate change increases, isn't abating. Indeed, almost as soon as quarantine started, DIY baking trends, from homemade Banana Bread to Sourdough, emerged (most recently, Cloud Bread, the pillow-soft, pastel-hued, keto loaf went viral with over 3,200,000,000 views on TikTok). "In times of recession DIY trends inform our way of doing things," muses Gelles. In response, cakes like hers—which have fittingly addressed this unhinged moment with names like Hieronymus Botched, Irritant and Jellyfish—offer a gut-level distraction; a soothing, mouth-watering medicine with the added bonus of a sugar high.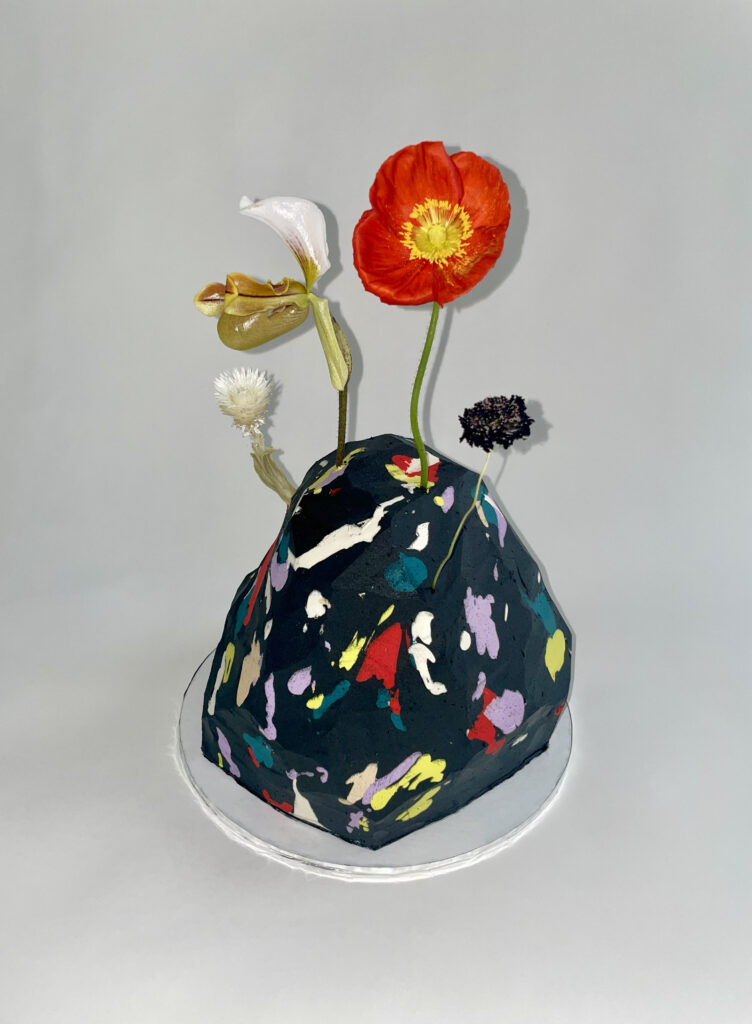 Cake for No Occasion
It's hard to disassociate this rise in women bakers from the pervasive cultural moment, too. Crumbling pillars of feminism—the overturning of Roe. V. Wade and a dwindling #MeToo movement—might also play a part. After all, established baking conventions were put in place to allow bored housewives an outlet for creativity, with the end-game being one of pleasing their husbands. Free from those constraints, an opulent, edible sculpture makes a joyous distraction and offers a reason to celebrate for celebrating's sake. Not just at weddings or birthday parties, as tradition would have it, but for any reason at all.
But Prat believes a long overdue move away from diet culture is the main reason such whimsical baking trends have had the freedom to flourish. As beauty ideals shift from impossible standards, women are encouraged to be themselves and enjoy the small luxuries in life. "Dessert isn't just for birthdays anymore," she says, "it's for every day." We couldn't agree more.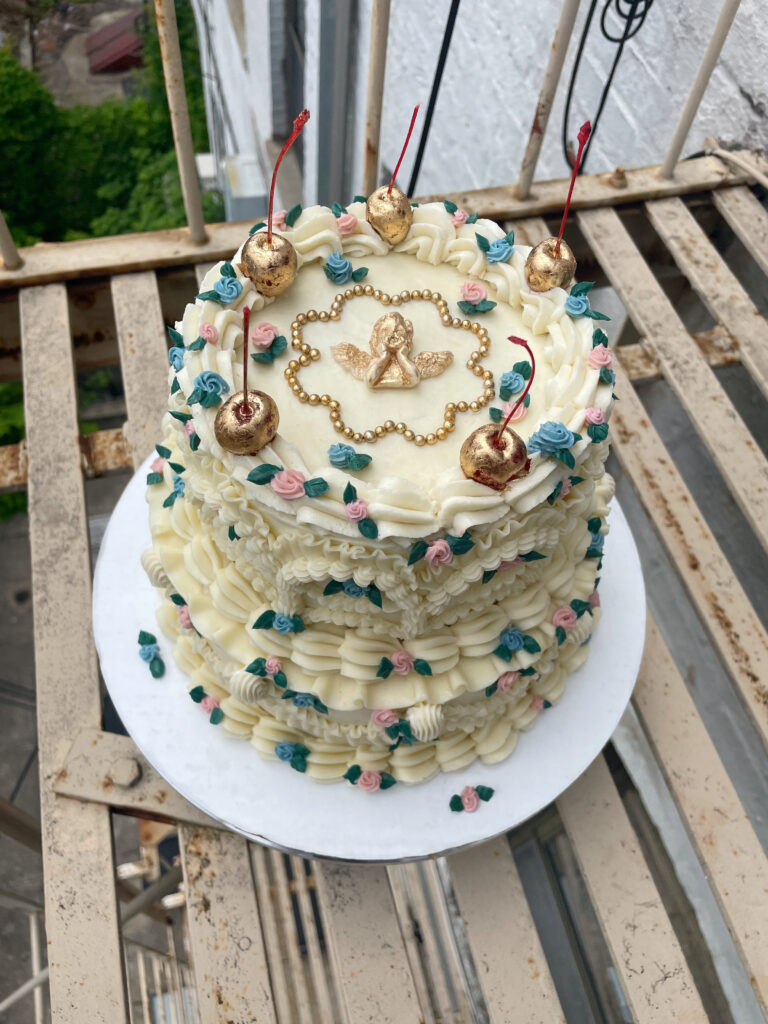 RELATED: Chaotic Cakes, A Pop Up
Feature photo courtesy of Amy Yip of @yip.studio_