These days, Napa is far from the only respectable wine-producing region in the United States. It's no secret that New York State has become a wine region—or rather, a collection of micro-regions—in its own right, and the Hudson Valley is right at the heart of it. And while the gorgeous river valley is home to plenty of rustic vineyards and farms producing wine and other local goods, Milea Estate Vineyard in Staatsburg sets itself apart by offering family-owned authenticity in an undeniably luxurious setting, all while creating some of the best wines and spirits in the state.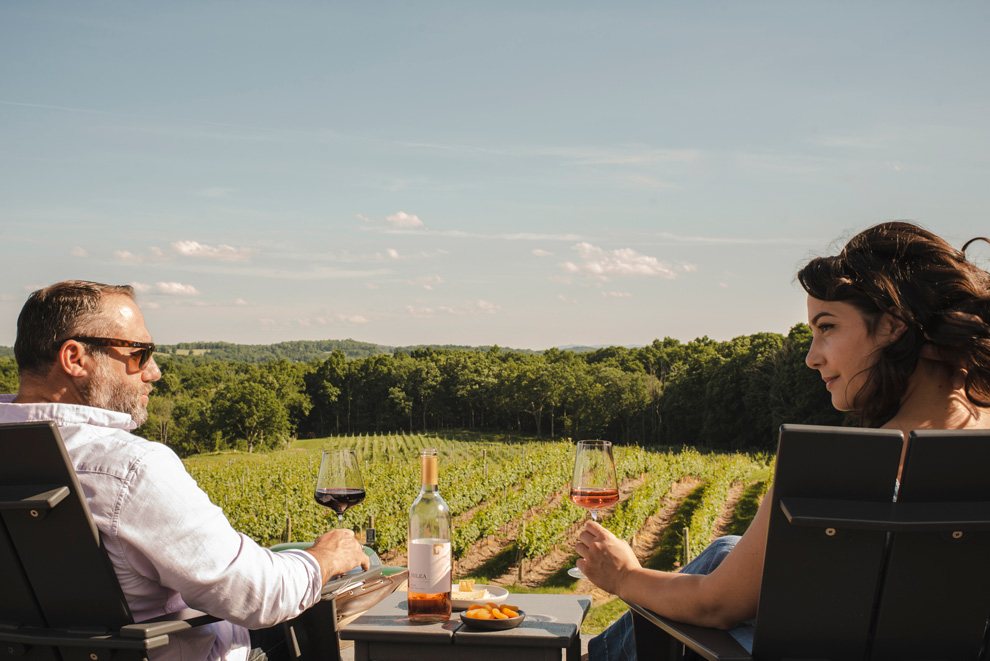 "When you are at Milea Estate, you are actually at the Milea's Hudson Valley getaway," says Russell Moss, Milea's general manager. That's why hospitality comes naturally to the Brooklyn-bred Mileas: they have a genuine interest in people. "When you meet a Milea, one thing you will notice is that they are all truly interested in your personal story," Moss says. "This is true of our brand. We are radically customer focused." The estate's visitors may be customers, but more importantly, they're guests.
Whether you're looking for an elegant day out or an opulent getaway, the vineyards have abundant options for locals and tourists alike. The scenic property includes not only acres of vineyards growing popular and heritage grape varietals, but a refurbished colonial-era cottage for overnight stays, a tapas program headed by the pedigreed Chef David Kim, and a stable that houses three retired competition horses: Faber, Topper, and Nando. (The stables are also home to Barnaby, a Bronx-native cat who is enjoying his retirement in the Hudson countryside.) Guests can come by for the afternoon and enjoy a wine tasting with local cheeses and charcuterie, or book a private tour of the property before retiring to the cottage for a massage or a swim in the private pool.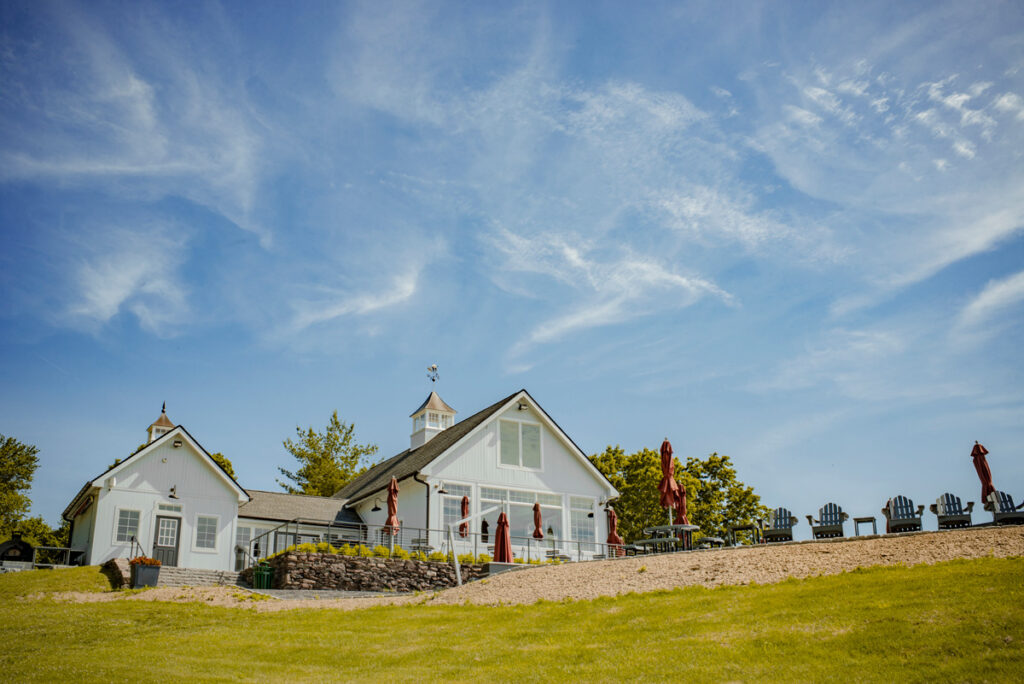 Like most great American stories, the Milea Estate comes from humble roots. In 1908, patriarch Anthony Milea immigrated from Calabria, Italy, to the Hudson Valley, where he raised his family and maintained a farm growing local fruit. The Mileas sprawled out over the next several decades, but in 1984, his grandson and great-grandson, Joe and Barry Milea, returned to the Valley and purchased what would become Milea Estate Vineyard. Today the property is owned and operated by Barry and his wife Sang Milea, and over the last several years, they've transformed the estate into a bonafide destination. They've expanded the estate from 25 to 102 acres, and brought on Chef Kim, formerly of NYC's Bouley, as well as Mina Do (whose resume includes Bouley, Nomad, and The Chef's Table at Brooklyn Fare) as hospitality manager.
At the center of it all is, of course, the wine. Under the operation of Russell Moss, formerly on the winemaking faculty of Cornell University and winemaking consultant to the South Asian kingdom of Bhutan, the estate's vineyards grow classic French and German varieties as well as two heritage varieties unique to the Hudson Valley, called Traminette and Regent. Whether you're in a red or white mood, there's a bottle you can't miss: the estate Cab Franc and Chardonnay have both been named the best of their variety in New York State and Milea also holds the title of Hudson Valley's best rosé winery.
Apart from perfecting classic varieties within the valley's unique climate and soil character, Milea is also leading a viticultural project that's exemplary of where wine is today— and where it comes from. The Hudson Valley Heritage Grape Project is what they call a "living vine library" focused on conserving and appreciating grape varieties that are either indigenous to or were developed in the Hudson Valley in centuries past. Headed by horticulturist and author J. Stephen Casscles, the project is an exercise in both history and sustainability, saving resources by growing vines that are naturally suited to the climate and by keeping winemaking local to limit transportation. These fruity, complex, fascinating wines are surprisingly approachable, not to mention unlike anything you'd find in a typical liquor store anywhere else in the country.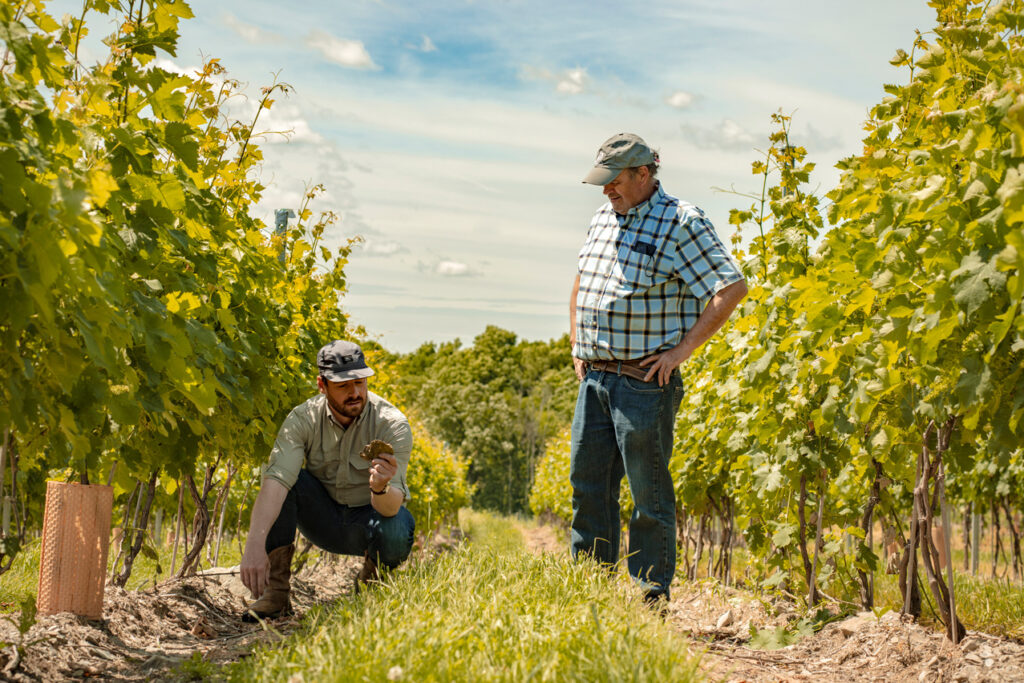 While wines are arguably best enjoyed with a view of the vineyards from which they came, wine lovers throughout New York and a handful of other states can have Milea's award-winning wines shipped directly to their homes. Truly curious New Yorkers (or frequent visitors) can even join Milea's wine club to receive a quarterly shipment of four, six, or twelve bottles, plus added perks like free tastings, club-only events, discounts, and access to limited-edition Reserve and Farmhouse bottles.
And like many New York producers today, Milea isn't limited to wine: their 10 Point Gin has earned gold medals from the International Spirits Competition in both New York and Denver. The distillers make use of the leftover stems, seeds, and skin—not unlike the process to make the Italian classic, grappa—along with aromatic botanicals, to produce a spirit that's finished in Milea's own Chardonnay barrels. Reach out to Milea if you're interested in trying the 10 Point Gin, though, as the family farm only produces a limited quantity at this time.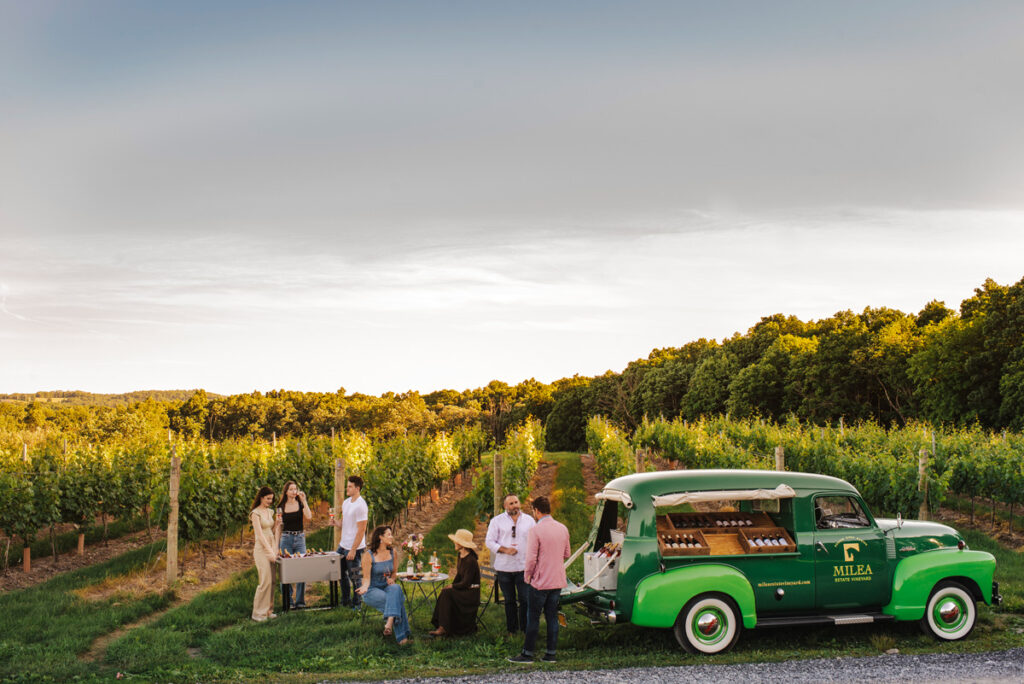 Exemplifying the combination of farm-fresh goods of the earth and swank hospitality that the Hudson Valley region is known for, it's little wonder that Milea has been charming locals and visitors for nearly the last four decades. In the next year alone, the family plans to offer even more accommodation thanks to their acquisition of a 19th-century home just minutes from the estate; they're also implementing a new sparkling wine program that marries grapes from their newest Hudson Valley vineyards and Moss's home state of Oregon. That said, visitors of the Mileas can look forward to exactly the kind of hospitality and warmth you'd expect from a big Italian family.
"We believe that NYC is the greatest city in the world and that its strength is derived from its celebration of diversity," Moss says. "We want everyone to see themselves in our brand."
RELATED: Yes, There's Natural Wine in the Northeast, and It's Its Own Beautiful Thing
Images courtesy of Milea Estate Vineyard