Local Skiing Has Never Been Better (Here's what to do once you're off the slopes)
Imagine: skiing was a thing before New Yorkers flew to Colorado, Gstaad, Wyoming, and Utah. Instead, we bundled ourselves in wool and took ourselves the Berkshires, the Catskills, and the Adirondacks. In fact, the Northeast is where American ski tourism was born.
With infrastructure built in 1927, Bear Mountain was once the epicenter of American ski jumping; it was still hosting competitions as late as the 1980s, with its last jump landing (we hope) in 1990. Mohonk Mountain House, a summer retreat that had been welcoming New Yorkers since the 1860s, first lured winter guests by offering Nordic (cross-country) skiing in the 1930s. Meanwhile, Hunter Mountain was the first U.S. ski resort to introduce snowmaking in the early 1960s. Thanks to digging by the New England Lost Ski Area Project (nelsap.org), we know of historic ski slopes in Millbrook, Beacon, Phoenicia, the Shawangunks, and even Katonah. In the Berkshires, NELSAP also lists now-forgotten ski areas that operated in Great Barrington, Deerfield, and North Adams.
What happened? Starting in the 1960s, the cheap airfare that drained the Borscht Belt also dinged our local ski industry when people could afford to fly to Telluride. But—unlike those Borscht Belt resorts—the number of local ski areas retracted, but they didn't vanish. Decades later, the remaining ski resorts started benefitting from the boom in Hudson Valley tourism. More skiers mean more money, and more investment in ski facilities. Then, COVID-19—brutal to tourism in general—benefitted local ski resorts in particular. Unwilling to fly, skiers booked closer to home.
The upshot is that local skiing has never been better. This year, why not skip airport drama and stick closer to home? Then, when you're off the slopes, check out these cool places to eat, drink, and wind down.
CATAMOUNT
Close to the New York State border in the Berkshires, Catamount got a serious glow-up after changing hands in 2018. Look for new chairlifts, magic carpets, a new lodge, a snowtubing park, and loads of snowmaking covering 90% of its 42 trails. These include 10 black diamond slopes that exploit this mountain's, 1000-foot vertical drop. catamountski.com
NEARBY
Prairie Whale
This farm-to-table mecca in Great Barrington is just a 14-minute drive from Catamount. It's perennially thronged because, despite seriously local sourcing, it's never pious—it's a fun place to be. Look for house-made pastas, charcuterie, and bacon, plus, a banging bar pouring smart cocktails and local and international beers. There's also a roomy selection of wines—red, white, orange, and natural—and a deep spirit list that focuses on whiskeys, tequila, and mezcal. prairiewhale.com
Zinnia's Dinette
On the New York side of the border in Craryville (though only a scant 10 minutes away), this small, bright, cheery newcomer dishes out just what the soul craves after a big, strenuous day: fried chicken, fish and chips, clam strip rolls, and fries. Don't expect alcohol, though, and it's only open Friday through Monday. That said, if you catch it, you'll be thankful you did. zinniasdinette.com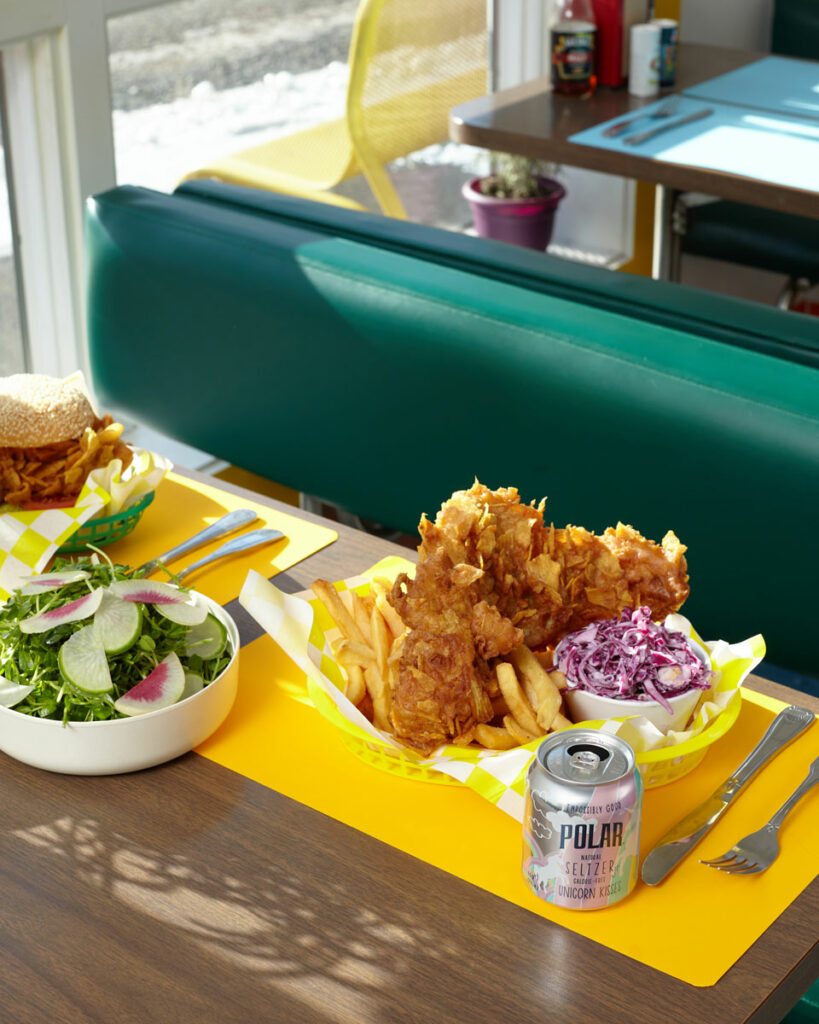 Roe Jan Brewing Co.
A seven-minute drive from Catamount, Roe Jan Brewing Co. operates in a roomy mid-19th-century mercantile building in Hillsdale. Go for live music, a browsable beer list, and a menu several steps above pub grub—also, keep an eye out for pop-ups by local food vendors. roejanbrewing.com
---
GIVE YOURSELF A PASS
A short skip from Catamount, The Pass in Great Barrington can cure what ails you—especially if you've spent a punishing day on skis. The universally beloved, vertically integrated dispensary known for its transparently sourced, high-quality cannabis recently debuted a line of CBD products, all made with organic, locally raised hemp. If you know you're gonna be sore tomorrow, stop in for relief from CBD salves, tinctures, gummies, and pens. While you're there, let The Pass's informed budtenders show you all the other cannabis products on offer. You'll sleep like a baby. thepass.co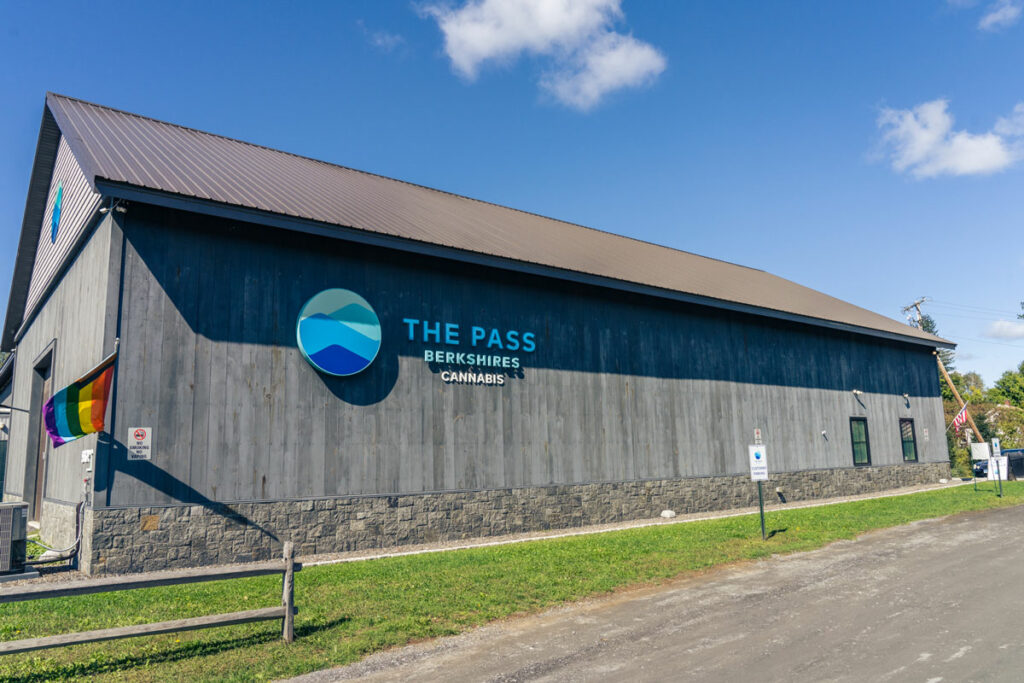 ---
BELLEAYRE
In 1894, as a reaction to toxic industries impacting New York State's forests and rivers, the State passed Article XIV declaring that the Catskill Forest Preserve will be kept "forever wild"—a powerful NYS land conservancy designation. Skiers pressured politicians to permit a Catskills ski operation, and in 1947, bills were passed to allow New York State to develop Belleayre in the preserve. Currently it is operated by Olympic Regional Development Authority (ORDA)—the entity created by NYS to manage the facilities built for the 1980 Olympic Games in Lake Placid. Belleayre offers 64 downhill trails with a vertical drop of 1,404 feet, 96% snowmaking coverage, 9.2 km of cross-country trails, and eight lifts (including New York State's
only gondola). belleayre.com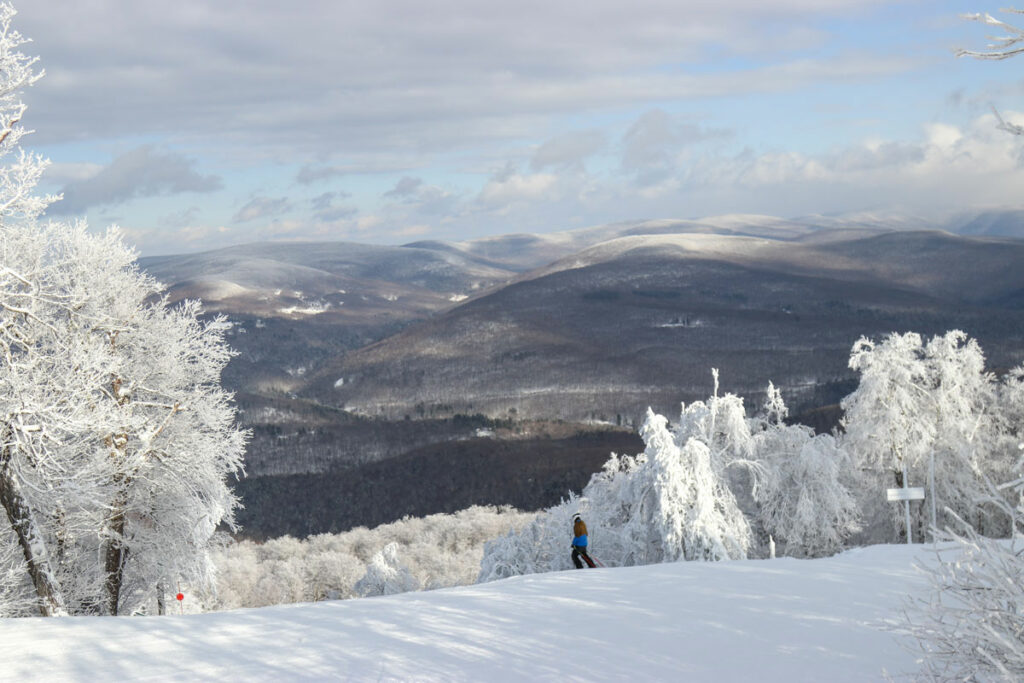 NEARBY
Peekamoose
Just four miles from the mountain in Big Indian, this locavorian favorite serves elegant, cheffy dinners in its restaurant; in its tavern, you'll find burgers, sandwiches, and onion rings (along with lots of cool beers and cocktails). Don't skip the charcuterie that, last we checked, included chicken liver pâté, pork and garlic terrine, and grass-fed beef pastrami with pickled red onions. Think of it as an après-ski restorative. peekamooserestaurant.com

Binnekill Tavern
Pork wiener schnitzel with carrots and cabbage, plus game and chicken pot pies, make this "mountain comfort food" spot in Margaretville a great place for restoring the energy you've burned. It's cozy, sustaining, and only a few minutes from Belleayre. binnekill.com

Phoenicia Diner
Don't miss stunning breakfasts, lunches, and early dinners at his Hudson Valley icon located fewer than 20 minutes from Belleayre. It offers inspired, locally sourced takes on Americana that include street corn avocado toast (avocado, local corn, feta, cilantro, lime, and poached egg) and a Catskill Po'Boy (cornmeal-crusted trout, remoulade, tomato, shredded lettuce on a baguette). It closes at 6, so come early and come hungry. phoeniciadiner.com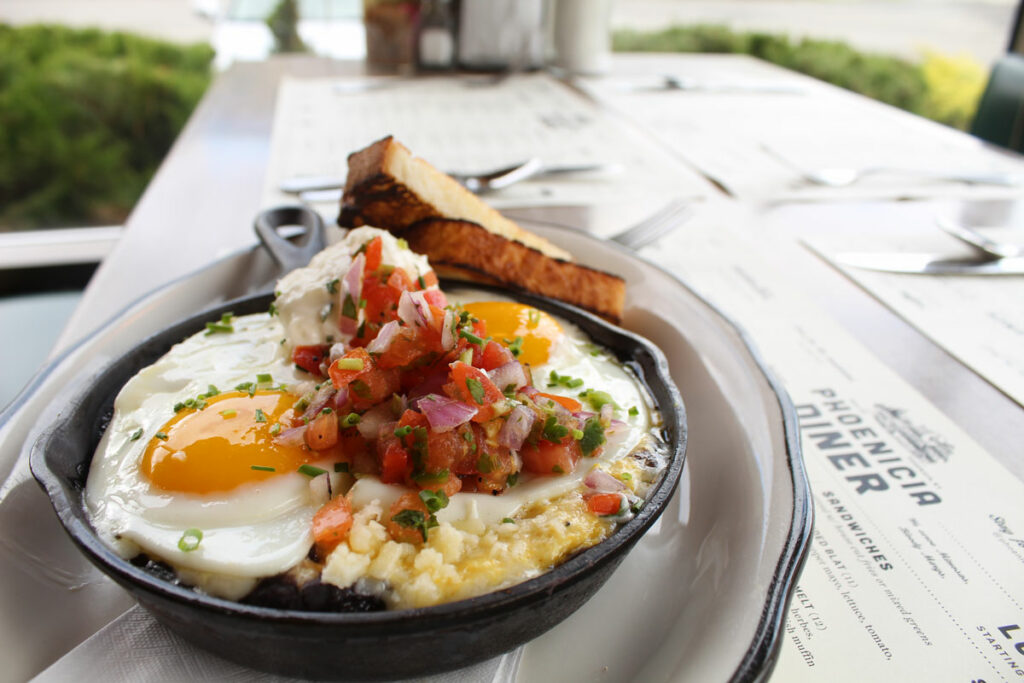 HUNTER MOUNTAIN
With a 1,600-foot vertical drop, Hunter Mountain is the steepest of this trio; its 320 skiable acres offer 67 trails and 13 lifts. Hunter's stats did not go unnoticed by Vail
Resorts (which operates some of the greatest Western ski destinations, including
Breckenridge, Vail, and Beaver Creek). In 2015, Vail Resorts purchased Hunter for $36.8 million and has since sunk $31 million more into improving the resort. Besides big money upgrades, its new(ish) ownership means that Hunter skiers can buy passes for all access skiing at 37 Vail Resorts properties in three countries. huntermtn.com
NEARBY
Deer Mountain Inn
Just outside of Hunter in Tannersville, this c. 1891 Arts and Crafts inn was built as
a private summer estate. Nowadays, its gracious rooms welcome both lodgers and diners alike. Expect smart, locally sourced Hudson Valley cuisine from Chef Corwin Kave, former executive chef at Fatty Crab. NB: Don't skip the snug bar with leather chesterfields, oriental carpets, and two big hearths that burn, crackle, and glow all winter long. deermountaininn.com

West Kill Brewing
A bit of a longer drive from Hunter—but still fewer than 30 minutes—will take you to this serious craft brewery set on a historic 127-acre dairy farm. Its mountain and valley views alone are worth the extra schlep, but committed beer geeks may be content enough to stare into their glasses. Look for IPAs, pilsners, porters, sours, lagers and hefeweizens brewed with clean mountain water and herbs, honey and fruit gathered onsite. Even better, this brewery holds a kitchen that sidesteps the obvious with crispy chicken thigh sandos, Buffalo cauliflower, poutine and fried baloney sandwiches served with American cheese and chips. westkillbrewing.com

Jagerberg Beer Hall & Alpine Tavern
One of the interesting things about this area is that it was heavily settled by German and Alpine immigrants—and still, there's a lot of beer and schnitzel around. At this plainspoken local favorite, you'll find honest versions of braunschweiger (house-made liverwurst), currywurst, flammkuchen, pretzels, and—you guessed it—beer and schnitzel, too. jagerberghall.com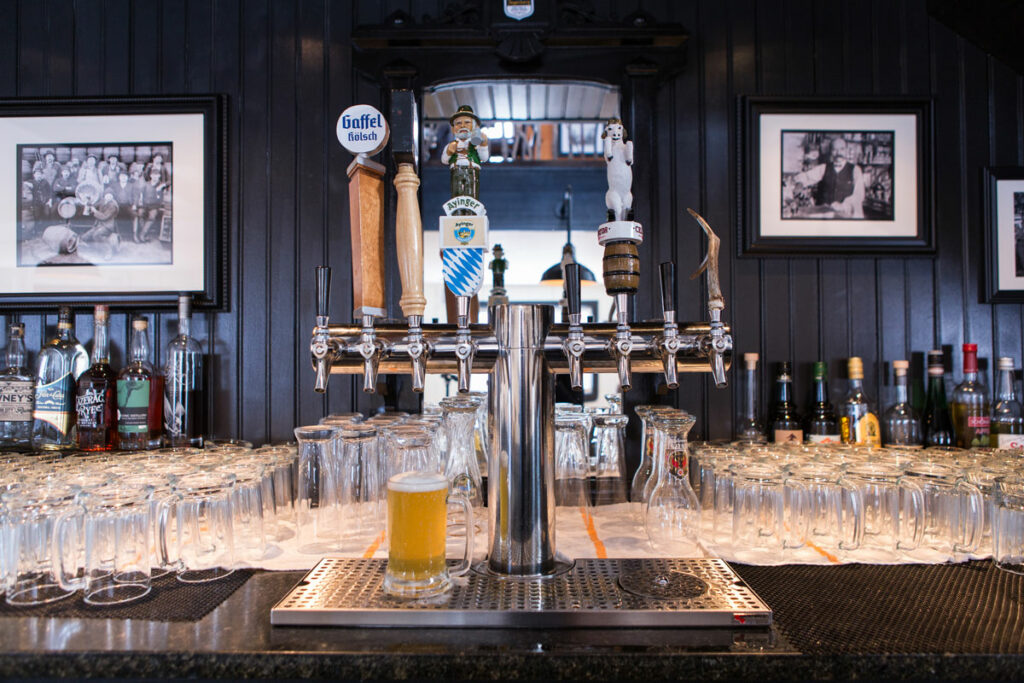 Mama's Boy Burgers
Locally raised beef (coming from JJ Farms, six miles away) goes into juicy, sloppy, delicious burgers that you can wash down with one of 40 flavors of shakes made from the Hudson Valley's own Jane's Ice Cream. There are Impossible Burgers for vegans, and fried cheese curds and onion rings for the greedy. It's right in Tannersville—don't miss it. mamasboyburgers.com