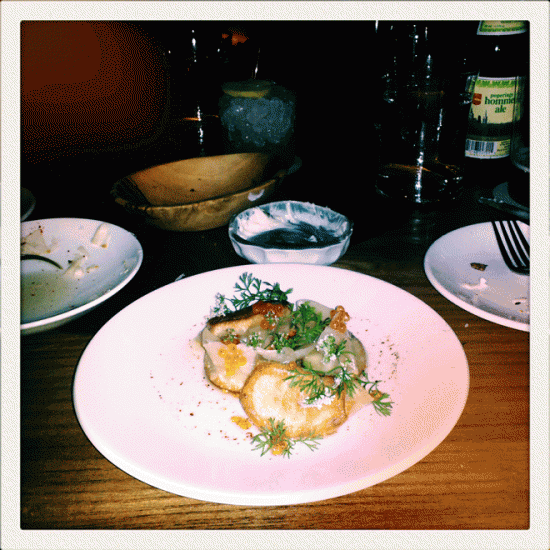 For this Long Island boy Brooklyn sometimes seems endless. Like when you can exit the Bedford Avenue L station in Williamsburg, as we did last week, and head half a mile south on Wythe Avenue and come upon a whole neighborhood of little food shops and new and renovated condos that didn't seem to exist a few years go. Perhaps its this vast newness–realtors citywide, we're told, are now pushing the part of Williamsburg called the Southside–that was part of the inspiration for Isa on South Second Street.  It was also a fortuitous coming together of events in the Gotham gastronomic galaxy, courtesy of the gang that runs Peels and Freemans, who we profiled last year and who were able to lure the talented chef Ignacio Mattos to cook across the East River from Il Buco on Bond Street. (You might remember him from the famous Il Buco fall sidewalk pig roast that was one of the very first blog posts on EdibleManhattan.com.)
At Isa the food is not so much conceptual as celestial–it's cosmic and wildly playful. (Mattos called it "modern primitive" when speaking with the Village Voice.) Consider the cod wontons, described on the menu as "dumplings mantecato, fish roe, cilantro." "That dish is New York," Mattos said. "There's Italian, Chinese, Jewish and Mexican." Mattos's melting pot is awfully good, and he seems to be digging his new digs. He recently visited the Mast Brothers chocolate production facility over on North Third Street, and said  he left feeling proud to be sharing a neighborhood with such artisans. (Though it should be noted they're technically in the already discovered Northside.)
We tucked into simple starters of sliced ham, a filleted sardine served with its crisped skeleton, and a plate of marinated daikon that would make a sushi chef swoon. We sipped a vegetable consomme, munched an "All the Leaves" salad with sweet potato greens and a creamy, nutty dressing, and stared in wonder as we were served beef tartare. It arrived glistening and smelling of olive oil and upon further examination, we saw that it was plated in three perfect circles assembled, Copernicus-like, to be the sun, the earth (a seasoned and crumbled "flax soil" mixture) and the moon (creme fraiche).
We ended with a toothsome, red Hudson Valley duck that came with salsify, black trumpets, dandelion and yogurt. The desserts, both declicious and like the rest of the food, featuring sometimes obscure flavors and plants (kombu, spelt, smoked egg yolk), were a not-too-sweet mix of  Jerusalem artichokes, chestnuts and coffee mixture, and a Concord grape sorbet, with lovage, wood sorrel, and walnuts.
Between bites, we took in the fractal grain patterns on the hand-built tables, rough-hewn walls and ceiling, and massive single-trunk bar made from Hudson Valley wood courtesy of Isa/Freemans/Peels owner Taavo Sommer. With its low ceilings, brick exterior and deep recessed windows, Isa fills a bit like a secret mountain hideaway. The Times style magazine ran a slideshow on the space a few months back, as did the blog, Spanish Hipster.
When we arrived at 6 p.m., the room was quiet. By 7:30 p.m., it was nearly full. (We've had friends who went by recently at 10 p.m. and couldn't get in.) But an hour or so–before heading to the Brooklyn Brewery for How to Milk It–was all the time we needed to drool over a half dozen of the 9 dishes on Isa's menu that night. There are also two desserts, a prixfixe option, and a bar and cocktail menu at least as long as the one for dinner.
We left with a copy of ours, hand-written and Photoshop-tweaked with what looks like album covers from 1970s LPs. Like the cosmic food, the menu was an expression of that particular moment in the movement of celestial bodies. That was October 26, eons ago in Isa time.