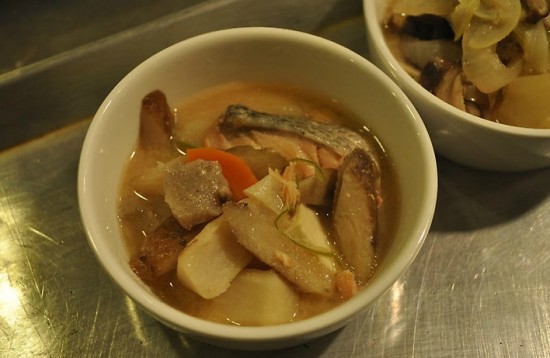 Many of us might have heard of Sakura Matsuri, the Japan-centric spring festival the Brooklyn Botanic Garden hosts each May when the cherry blossoms bloom. But you can have a Matsuri in fall too, and that's exactly what's going down at Brooklyn Brewery in Williamsburg on November 10, thanks to the Gohan Society, the Manhattan non-profit that promotes Japan's culinary culture here in the States. The you-must-go-if-you-like-Japanese-food shindig–their biggest fundraiser of the year–is called Aki Matsuri, and it almost crept past under our radar until the folks at Brooklyn Brewery emailed us to let us know about the event, which will run from 6:30 to 9:30 p.m. at 79 North Eleventh Street on Thursday night. (Just a few blocks from the Bedford Avenue L stop.)
According to Tamio Spiegel, the executive Director of the society," there will be food from 11 of the finest Japanese restaurants in NYC, sake from many different areas of Japan, premium Japanese whiskey, Brooklyn Beer (of course!) and a musical performance from NYC's own internationally acclaimed traditional Japanese drumming group, Soh Daiko."
It's the first time the organization has made a foray over the East River, which is probably the same case for those restaurants, which include Morimoto, Brushstroke, Sushi-Zen, Soba Totto, Otafuku, Curry-Ya and Kyotofu. (Woah!) Buy tickets now right from their site.
Here's information from the organizers, below:
Join The Gohan Society for their annual fundraiser at the Brooklyn Brewery.  "Aki Matsuri," a fall festival with food from eleven of the finest Japanese restaurants in NYC, sake from many different areas of Japan, premium Japanese whiskey, Brooklyn Brewery beer, and a musical performance from NYC's own internationally acclaimed traditional Japanese drumming group, Soh Daiko will take place from 6:30-9:30pm.
The Gohan Society, is a non-for profit organization with a stated mission to "foster an understanding and appreciation of Japan's culinary heritage in the United States through outreach to chefs, culinary arts professionals and all who admire and enjoy Japanese culture."
Ticket purchases and additional information can be found here.