Cookbook Author & Activist Grace Young is working toward saving Chinatown and fighting Anti-Asian Hate
COVID-19 has turned Manhattanite Grace Young into something of a reluctant activist: She's spent much of the last two years supporting the downtown neighborhood by becoming a megaphone for its stories. She's documented and spread the word about the hardships faced by Chinatown businesses and the Asian American and Pacific Islander (AAPI) community at large, from COVID shutdowns to racialized violence and the unwanted development of a new, 40-story mega-jail. But of her fellow New Yorkers, she's not asking too much. She just wants us all to eat some really good food.
She hadn't previously considered herself an activist. Before the pandemic, Young primarily bore the titles of cookbook author and "wok therapist," teaching her readers traditional Chinese recipes and techniques. Her work centered around preserving and celebrating Chinese culinary heritage through the linchpin of home cooking. Young is the 2022 recipient of the Julia Child Award, which is presented to an "individual or team who has made a profound and significant difference in the way America cooks, eats and drinks."
But in January 2020, when the novel coronavirus was still a remote threat to many of us, Grace Young felt a change in the air and took on a new kind of preservationist endeavor. Well before the first stay-at-home orders, Chinatowns across America were already facing somewhere between a 40% and 80% drop in revenue thanks to tourism drying up and xenophobia encouraged by political leaders dubbing COVID the "China Virus" and "Wuhan Flu." She rang the alarm in major publications like Food & Wine and fewer than two days before De Blasio's shutdown mandate, she conducted video interviews with business owners on the edge of crisis. Some of these places were in their final days, whether or not they realized it yet. Among 2020's most gutting losses were generations-old establishments that Young considered to be what she calls the "heart and soul" of Chinatown, like the 65-year-old WK Restaurant and the 50-year-old Lung Moon Bakery. 
RELATED: For Generations, Chinatown's Oldest Store Has Handpicked Its Teaware
"I realized that I took Chinatown for granted until the pandemic and I just assumed it would always be here," Young said. She calls Chinatown the "last real neighborhood in Manhattan," still resisting the homogenizing force of gentrification. In an area where 98% of the businesses are mom-and-pop establishments—a stunning rarity in this day and age—she quickly realized that a boom in business was the only hope for the restaurants, markets, coffeehouses, and bakeries she loved so much. Joined by the James Beard Foundation, she put out a call to action: #SaveChineseRestaurants, in New York and all across the country.
In Manhattan, Chinatown's businesses largely depend on foot traffic. They don't advertise, many have no web presence at all, and Young estimates that about half are cash-only. And the way she sees it, that's part of what makes them special—a mix of gritty and charming that New Yorkers of any background or tax bracket can appreciate. Where else can you go for the freshest rainbow of exotic fruits, or a hearty lunch special that costs less than $6?
"If you don't have very much money, you can eat like a king. And if you are doing well, you still go to Chinatown to eat like a king," she said. "No one ever leaves and says 'God, I can't believe we spent that much money and only just got this teeny little serving.'"
Two years on, tourism has begun to return and Lower Manhattan once again buzzes with activity when the nearby courthouses break for lunch. But the COVID virus itself was never the only threat to Chinatown and its locals. The NYPD and independent research organizations alike continue to report ominously rising rates of hate crimes against AAPI individuals since the start of the pandemic, and a recent survey found that, heartbreakingly, 75% of Asian seniors in NYC are afraid to leave their homes. Young points out that though many of their neighbors probably don't even realize it, the threat of violence has become a part of daily life for AAPI New Yorkers.
"Without the full number of tourists, and now with locals being fearful of their own safety, New Yorkers have to show up," she said. "And if they don't, no one should be surprised if there's a Starbucks, or a CVS, or a Trader Joe's on Mott Street."
"I always tell people, 'Chinatown is the face of America. We are a land of immigrants,'" she said, pointing out the mix of Italian, Irish, Jewish, and other immigrant communities that have also shaped Lower Manhattan. "And so for me, the historic Chinatowns, like in New York and San Francisco, are as important as the Liberty Bell in telling the story of this country."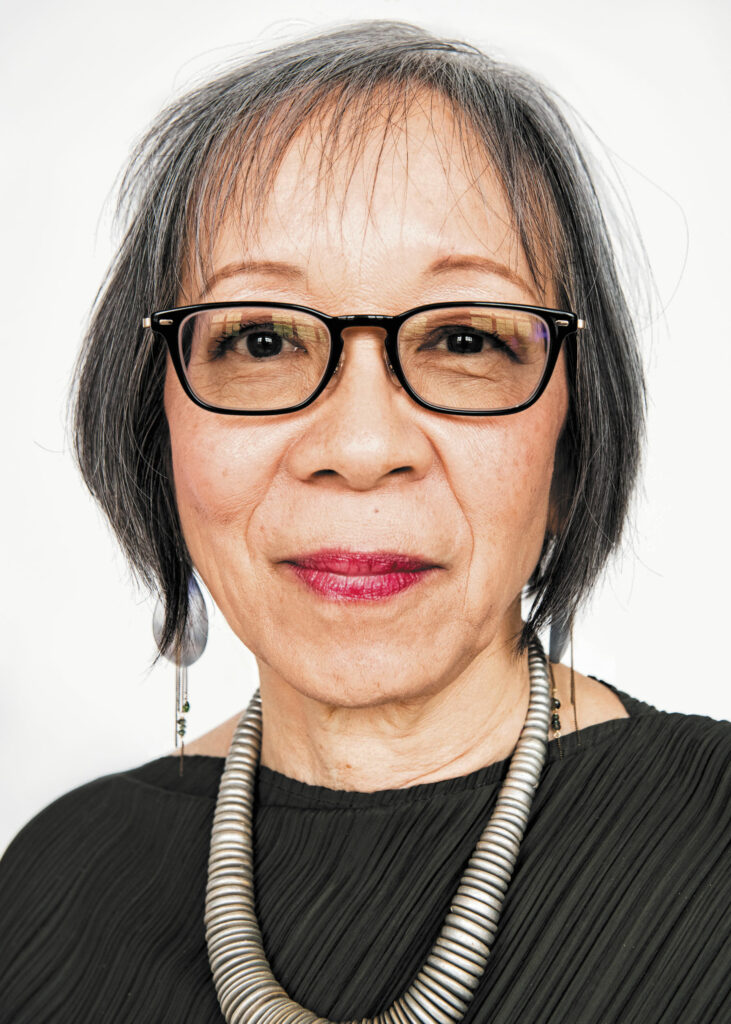 On June 14th 2022, Grace Young claimed her James Beard Humanitarian of the Year Award.
Feature photo by Ruvan Wijesooriya.