Basically, it's the Costco model: if you have the space, a café that serves prepared foods offers a great opportunity to showcase the products on your warehouse shelves. That way, shoppers pay to sample goods that, if you do your job right, they buy later. Farm to People, whose products are vastly better than those at Costco, is doing a warehouse café with style at its new Kitchen & Bar in Bushwick.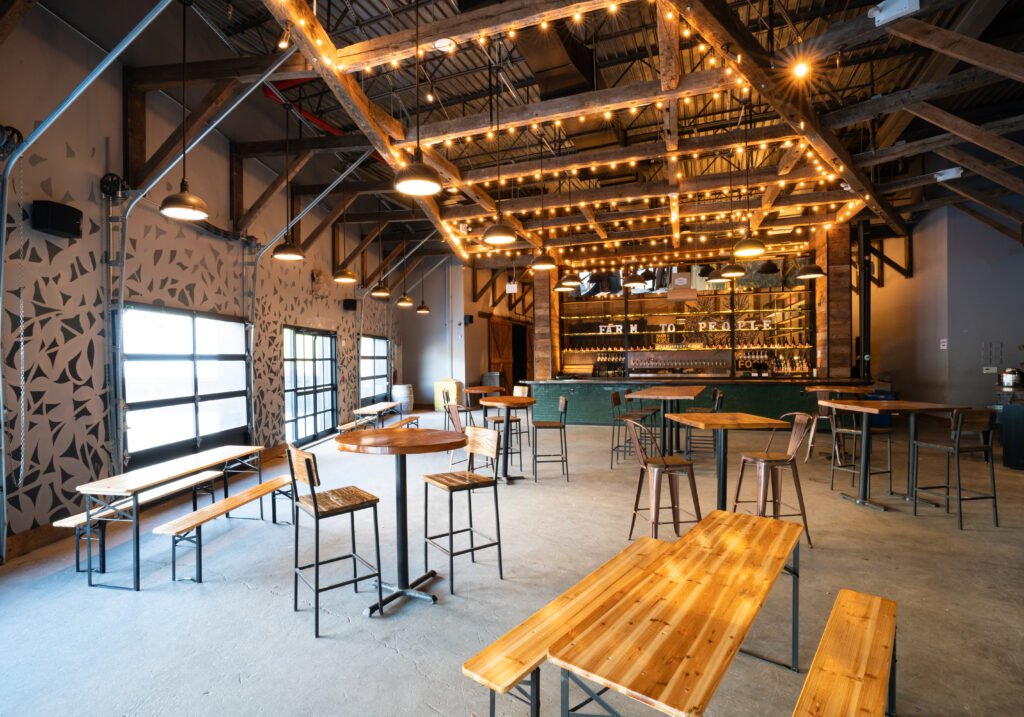 Farm to People, a grocery delivery service, is a greener alternative to Fresh Direct, Instacart, Peapod, Wholefoods, and other grocery delivery services. The company prioritizes regenerative and organic farms, and sources much of what it sells within 300 miles of New York City. Its packaging is also compostable, and Wholefoods could really take that note. On the sidewalk outside its shipping warehouse, formerly the Brooklyn Cider House, Farm to People stocks a free community fridge for people in need. It's pretty hard to not get behind Farm to People.
RELATED: 12 Meal Delivery Services Worth Your Time
Owing to a recently burned down structure on its property, Farm to People found itself with some newly gained outdoor space. They've installed gravel, tables, and fabric shades to make a lovely spot for winding down on weekends (NB: it's open only Fridays, Saturdays, and Sundays). Outside, there is cornhole for those who crave it, but the real story is the beverage list curated by Farm to People's Marketing Director, Rachel Steinhauser.
On one visit, we spotted beers on draft (all $8) from Hill Farmstead Brewery, KCBC and Greenpoint Beer & Ale Co., and picks in cans ($8/$9) from Equilibrium Brewery, Oxbow Brewing Companyand Talea Beer Co. Meanwhile, wines are equally intriguing, affordable, and seductive. Look for many organic and biodynamic picks that span white, red, orange, rosé, and sparkling offered at between &13 and $17 per glass—there's a sake ($14) and an amaro ($10), too. A glass of I Cangianti by Stoppini Confine (a biodynamic Tuscan orange, $17) under the shade on a Saturday afternoon will ease your slide through a perfect weekend.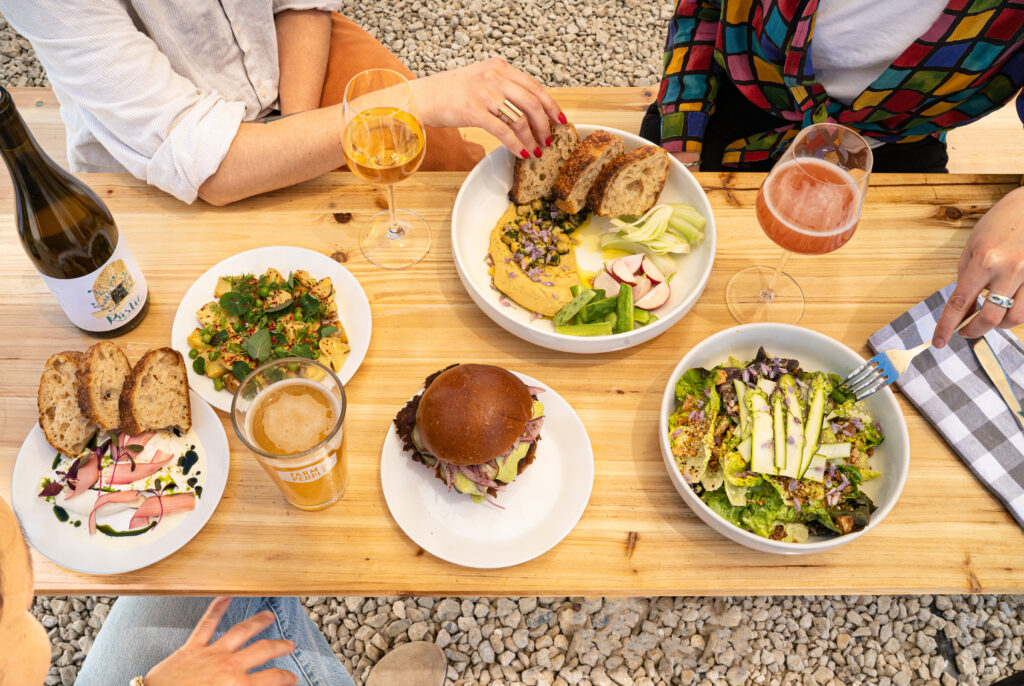 Manning the huge kitchen (a relic from Brooklyn Cider House) is Matthew Yee, who spent time at One White Street and also part times at Victoria Blamey's acclaimed SOHO spot, Mena. He's likely the most accomplished person flipping burgers in Bushwick—Yee comes with a degree in food science and agriculture from UMass, with a special degree in sustainable food and farming. Yee has whipped together a taut—as in, 8 item—menu that offers drinker-friendly sharable plates that include Narragansett Creamery burrata with rhubarb pickles, Square Roots basil oil, toasted almonds, and She Wolf Bakery sourdough ($15). Look for a truly incredible Little Gem salad with Indian Neck Farm shaved asparagus, Hawthorne Valley Farm biodynamic buttermilk ranch, everything bagel-seasoned She Wolf sourdough crumble, and chive blossoms ($15). For bigger appetites, there is an Acua Kelp Burger ($17) joining a Happy Valley Meat Co. smash burger ($17). If the mission of this menu is to showcase what can be achieved with Farm to People's raw ingredients, it does a fine job.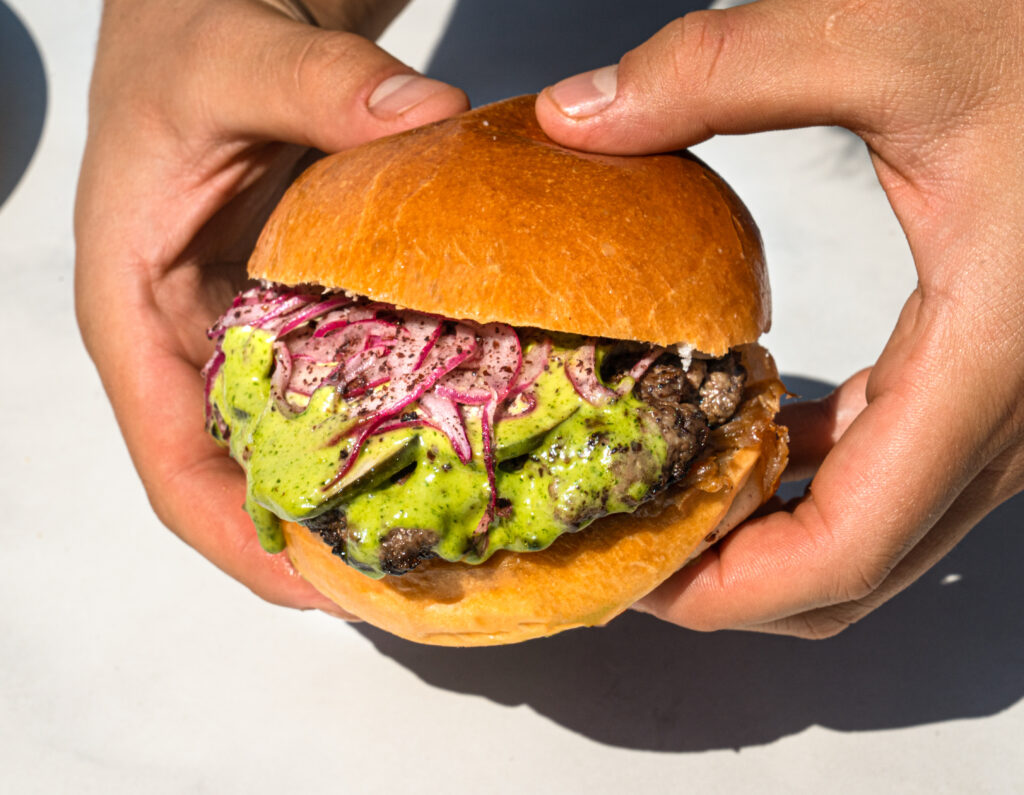 In future, Yee is looking to change the menu seasonally to fully exploit the changing bounty of Farm to People's warehouse. The company is planning to add grab and go groceries and prepared foods to its roomy indoor dining space, which was once the cidery's tasting room (and which doubles, Monday through Friday, as a loading stage for Farm to People trucks).
Farm to People will soon be hosting pop-ups. "We're the burger joint down the block," says Yee, "and we can have a delicious, really bright and light burger, but also, we can be a cool destination for all the different audiences out there and all the other amazing chefs that exist in the City." He continues, "What I'm trying to parlay here, is making the space very adaptable and learning from different pop-up chefs. We have this beautiful kitchen space and this huge outdoor space—being able to accommodate different chefs would be very cool."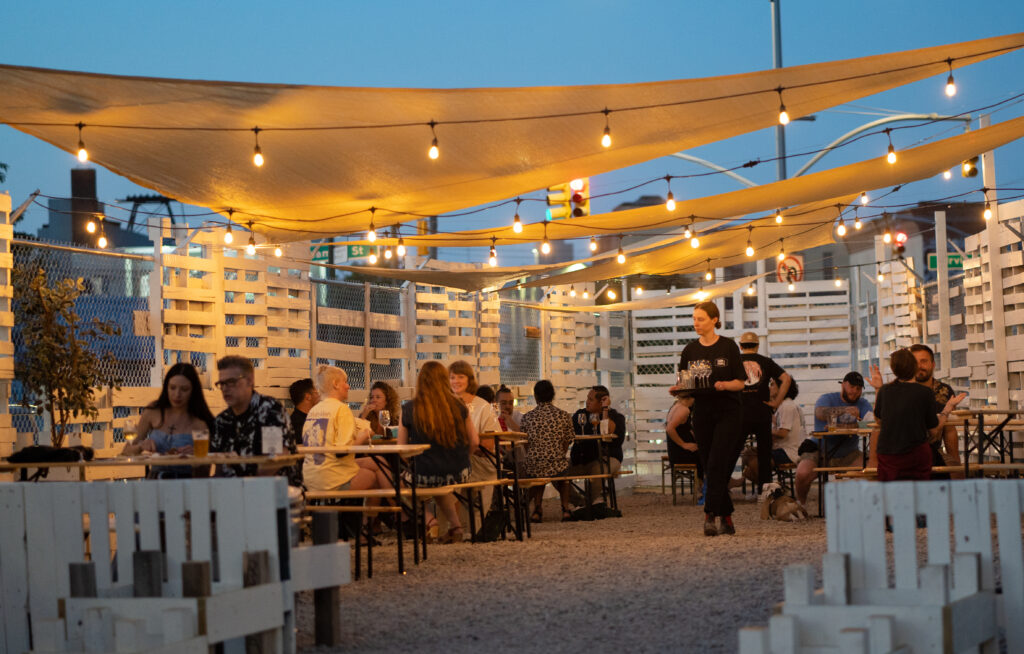 1100 Flushing Ave, Brooklyn
Hours
Friday 5 PM-12 AM
Saturday 12 PM-12 AM
Sunday 3 PM-10 PM
Feature Photo credited to Farm to People Kitchen & Bar.