Live In: LES
Working Toward: Detoxifying Fine Dining
---
Some chefs are happy to talk for hours about their menus—where the ideas came from, what cultural influences they're pulling from, which traditional techniques they employ. But Telly Justice and Camille Lindsley, the owners of HAGS, a fine-dining restaurant in the East Village, are wholly uninterested in defining their cooking style. They note the impact that their years in Atlanta have had on their approach—that's where Justice and Lindsley met—but they don't classify their food as "southern," or as anything else.
"We really, really don't care," says Lindsley, who also works as the restaurant's beverage director.
The way that HAGS operates, the recipes aren't birthed from the mind of one auteur chef. Instead, the menu is the result of collaboration. Justice is the head chef, but she says that the menu at HAGS is "dialogue- and relationship-driven," as she and her staff build dishes around whatever produce their suppliers have available and are most excited to sell. They don't need their style of cooking to fit into any particular box.
"I think that's one of the queerest things about us," Justice says.
Though the menu at HAGS doesn't lend itself to usual restaurant classifications (RESY's one word categorization is "Experimental"), Justice and Lindsley are proud of their dishes—proud enough to share all their recipes online for home cooks and even competing chefs to replicate. ("I fully encourage it—steal our recipes," Justice says.) That said, their open-book recipes aren't even the most interesting thing about HAGS.
Lindsley and Justice essentially started their careers in Atlanta and Athens, Georgia; that's where their relationship began (in addition to being business partners, they are a couple). They each spent ample time working in fine-dining establishments, but both were also actively engaged with community-based food programs. Justice
was—and continues to be—deeply inspired by queer potluck culture, and both she and Lindsley volunteered with Food Not Bombs, a mutual aid collective that distributes free vegan and vegetarian food to folks in need. Through this work, Justice and Lindsley felt a growing desire to feed people as an act of care and community. That work started to take some of the shine off the elite kitchens in which they earned their stripes.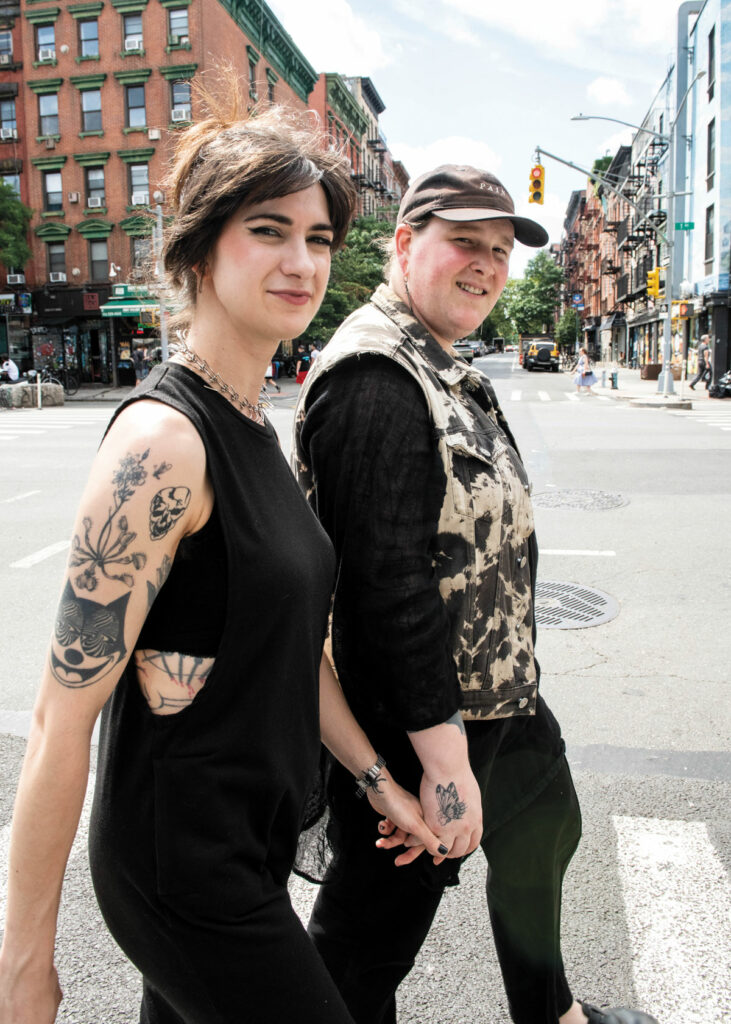 Justice felt herself growing cynical. "It was so dissonant in comparison to the free-spiritedness and the feeling of care and compassion that I experienced at the beginning, building relationships to food and cuisine," Justice says.
After over a decade in fine dining, the couple decided that the natural next step would be to open their own restaurant. They chose New York as their home base, believing the city would afford them the creative freedom they longed for.
Lindsley and Justice knew there were many elements of the fine-dining world that they didn't want to replicate at their own place. In an industry that notoriously overworks (and sometimes abuses) its talent, they wanted HAGS to be a professionally and emotionally supportive environment. That means no overworking anyone, no spreading anyone too thin. It also means offering professional mentorship as often as possible.
The real magic of HAGS, though, is how the fine-dining program supports the community programming that, for Justice and Lindsley, lies at the heart of the restaurant. It's not just that they've stuffed fine-dining prowess and justice-minded ethics into one small storefront—it's that the two operate symbiotically. Tuesday through Saturday, HAGS serves vegan and omnivorous tasting menus for $140–$150, with the option of an additional $90 wine pairing. Charging fine-dining prices five days a week, however, makes it possible for them to reliably offer "pay what you can" Sundays. Guests order at the counter and pay what they're able to, even if that's nothing. And as you might expect, some Sundays are so busy, a line forms down the block. The crowd is diverse, consisting of restaurant industry folks, senior citizens who have lived in the East Village for ages, homeless neighbors, and college students. Justice and Lindsley maintain that Sundays are their favorite nights, always unpredictable and undoubtedly fun.
Though their "pay what you can" nights can be unpredictable, you can depend on them happening. "We wanted to ensure that this ideological aspect of our business could be sustainable so that we could be trusted to do this every week, same time, same place, and not be a moving target," Justice says.
"We're here to provide something more than just dinner on those days," Justice says. "It's a space that can be used by the community and is used by the community. And that makes the rest of the work that we do feel a whole lot more meaningful."