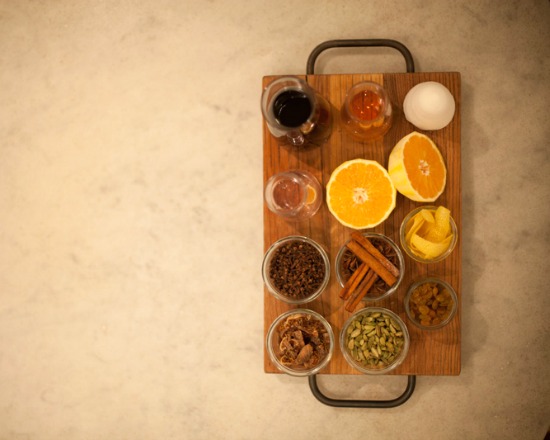 It's game time. Thanksgiving dinner won't make itself (although some trusted local folks will help make it for you), so we're here to chime in with some of our favorite recipes to inspire you on the big day:
Marissa Finn: Butternut Squash Soup — Food Network
Butternut squash soup has gotten really fancy lately, but I'm a purest. Garnish this with some pumpkin seeds and a cinnamon stick and no one will miss the orange juice, cream or nine spices you don't have in your pantry.
Carrington Morris: Hearty Duck and Wild Rice Soup — NY Times
Growing up in a big family, my brothers, sisters, parents and I had guests popping by at all hours during the holidays, and my mom always had something delicious on offer simmering on the stove. This one's a happy combining of my favorite woodsy ingredients—duck, leeks, mushrooms, wild rice—and pretty simple to prepare.
Brian Halweil: Bonac Clam Pie — Edible Manhattan
The most common way for shellfish to show up on the Thanksgiving table is in oyster stuffing. But the crust-friendly holiday is also a perfect excuse to whip up this clam pie.
Lauren Wilson: Zuni Café's Bread Salad — Food & Wine
It's difficult to find better ingredients than in France, except when sourcing for a traditional American Thanksgiving. If there's a whole turkey for sale somewhere throughout la belle France during the last week of November, then I certainly couldn't find it. Boo-hoo, though… when fêting in Dijon, I made do. A favorite meal of mine is Judy Rogers's roast chicken and bread salad. It parallels a roast turkey with stuffing and has the rare ability to elevate an already superb baguette.
Gabrielle Langholtz: Cranberry Chutney — Epicurious
If I could buy stock in this cranberry chutney recipe, I'd be rich. It is the holiday-recipe holy grail: ridiculously easy (barely 10 minutes active time), completely do-ahead (it keeps at least a week) and so flavorful everyone will ask for the recipe. I make it every Thanksgiving, and now many of my friends do, too. Join the club, you'll be thankful.
Amy Zavatto: Rich Turkey Stock — Food & Wine
A decade ago, I found this one for turkey stock when poring over recipes (read: OBSESSING) for the first Thanksgiving I would cook for my in-laws in our then-new house. My husband and I had just moved from a lovely apartment in Brooklyn with an eensie, kind of crappy kitchen (the numbers on the oven dial had worn out long before we moved in; I got good at guessing) and bought a house in St. George, Staten Island, with a real dining room and a kitchen that I could move around in. So I kind of hijacked the holiday from my husband's family for myriad reasons, not the least of which was a) I was really excited, and b) I'm a little tiny bit of a Thanksgiving General Napoleon. And, like all of my Edible colleagues, I really, really like to cook. I still have the flag planted on the Thanksgiving holiday 10 years later (viva la dictatorship!), and while my side dishes switch in and out and I try new variations on things every year, two items pretty much remain the same: My dad's sausage stuffing recipe (there is NO deviation from this), and Food & Wine's Rich Turkey Stock recipe that I found while obsessing over all those books and magazines years ago. It is the perfect base for gravy – robust and rich with a deep, echoing kind of flavor that you can only get from roasting turkey parts and/or bones beforehand. I'll actually be getting it going this weekend and sticking it in the freezer to use for Thursday. Yum.

Eileen M. Duffy: Pumpkin Pie Recipe — Libby's Pumpkin Pie
I had an ex whose birthday was in October and his favorite dessert was pumpkin pie. There were some years when I nearly made one pumpkin pie per day for the entire month of October. Of course, I tried to make the pie from a pumpkin once, and it was a real pain. Better to stick to the recipe on the label of the can. But I doctored it. I exchanged fresh ginger for dried and separated the eggs, whipping the whites and folding them in before baking. Light, airy and fresh.
Scott Bleicher, Edible Manhattan photo editor: Cassata Siciliana — Food Network
Growing up, Thanksgiving for me was just as much about lasagna and gnocchi as it was turkey and stuffing. Every year, without fail, my maternal grandmother, Nellie Caparella, would make cassata Siciliana, which we would always just refer to as "Italian cheesecake." Here is a version of the recipe from Emeril Lagasse, but I'm sure my grandmother's was better. Isn't it always?
Vicky Wasik, Edible Brooklyn photo editor
This isn't so much a recipe as a nostalgic anecdote that involves food. My mother has cooked Thanksgiving dinner every year of my life, so waking up to the smells of a turkey roasting in the oven has always been my favorite part of the holiday. By around noon, my mother would have the turkey neck ready for her and me to share, our little tradition. So crispy, messy and flavorful, this part of the bird should not be overlooked.