NYC's Buzziest Party (That You Can Actually Feel Good About)
MANHATTAN, NY, September 13, 2023—The entire New York City (and beyond) food world gathered at Chelsea Market to celebrate the extraordinary life and mission of Anne Saxelby, the pioneering cheesemonger often credited with launching the artisanal cheese movement in the United States. Her shop, Saxelby Cheesemongers, first opened in Manhattan at Essex Market in 2006, a time when American cheesemaking was synonymous with commodity, mass-market products; at that time, chefs and gourmets looked to European producers for quality cheeses. Saxelby's shop, an almost instant hit, was revolutionary for selling only American-made cheeses sourced from small producers; the shop's mission was to support sustainable American agricultural practices and to help rural communities find sustaining markets for the goods they produce. Though she died in 2021 at the age of 40, her advocacy for American farmstead cheesemakers will be felt among American cheese makers, chefs, and cheese lovers for decades to come.
RELATED: How Anne Saxelby Brought American Cheese to America
The Anne Saxelby Legacy Fund (ASLF), a 501c3 nonprofit, was founded after Anne Saxelby's death; it provides monthlong apprenticeships for young adults to live on sustainable farms where they can work, learn, and become inspired to create change in their own communities. Each apprentice is fully paid, including salary, travel, room, board, and all other expenses. More than 100 apprentices have already benefitted from the ASLF, traveling to work at landmark American farms, artisanal cheese producers and butchers, dairies, and urban agriculture operations. In the coming years, the organizers of the ASLF hope to send thousands more apprentices into the field.
The ASLF's Annual Benefit is the organization's largest fundraiser, and, this year, more than 2,000 attendees wrapped around the block, eagerly awaiting entrance to one of Manhattan's buzziest food events. Tickets to the event were priced at $250, with ticket packages (that include special bonuses from Saxelby Cheesemongers, Heritage Foods, and other event sponsors) beginning at $1,500. Specially priced tickets for active students and industry professionals were offered for $125. A gift over $80 per person was made tax-deductible and all funds raised through the 2023 event will directly fund the 2024 program.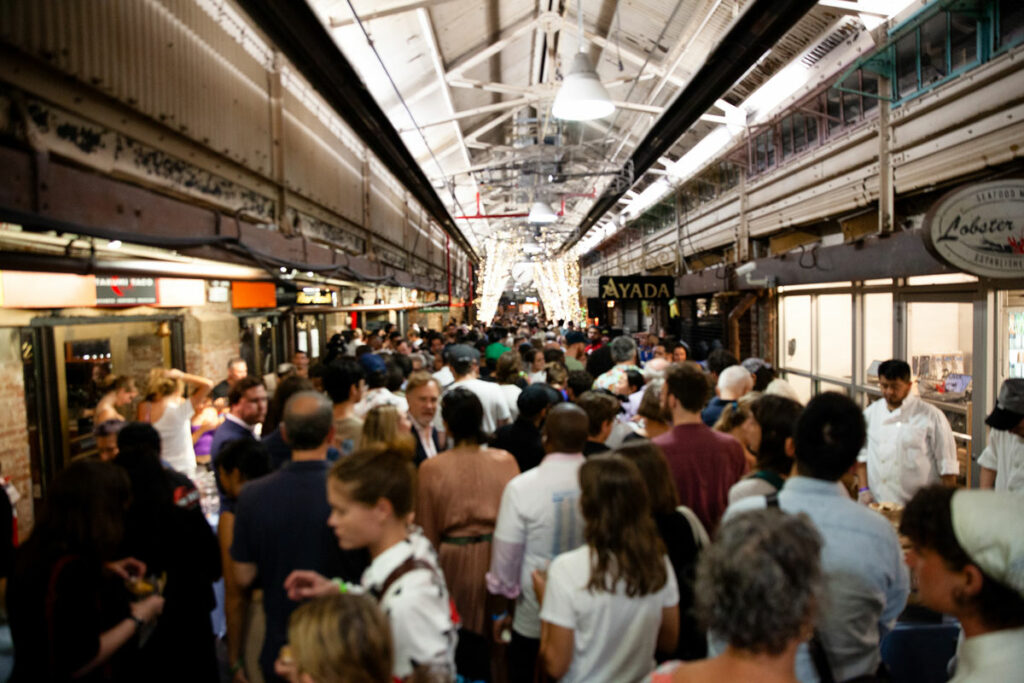 Once inside Chelsea Market, itself a remarkable architectural vestige from Manhattan's industrial past (built in the 1890s, the structure was once the National Biscuit Company—Nabisco—factory complex), guests were fêted by a Who's Who of the American food and beverage world. Representatives from Chez Panisse came from Berkely, CA to offer radishes, Ploughgate butter and sea salt, while Brezza, from Las Vegas, also made the trek east. Cesare Casella was in attendance, carving both 2-year-old prosciuttos and an extraordinary prosciutto that Casella aged for 10 years. All told, there were more than 110 restaurants and food vendors in attendance; these include many of New York boldest restaurant names: Carbone, Feast and Floret, Frenchette, Gramercy Tavern, La Newyorkina, Maialino, The Meat Hook, Momofuku, Gage & Tollner, Roberta's, Red Hook Winery, Shmackwich, Shopsin's, Win Son, and Yellow Rose.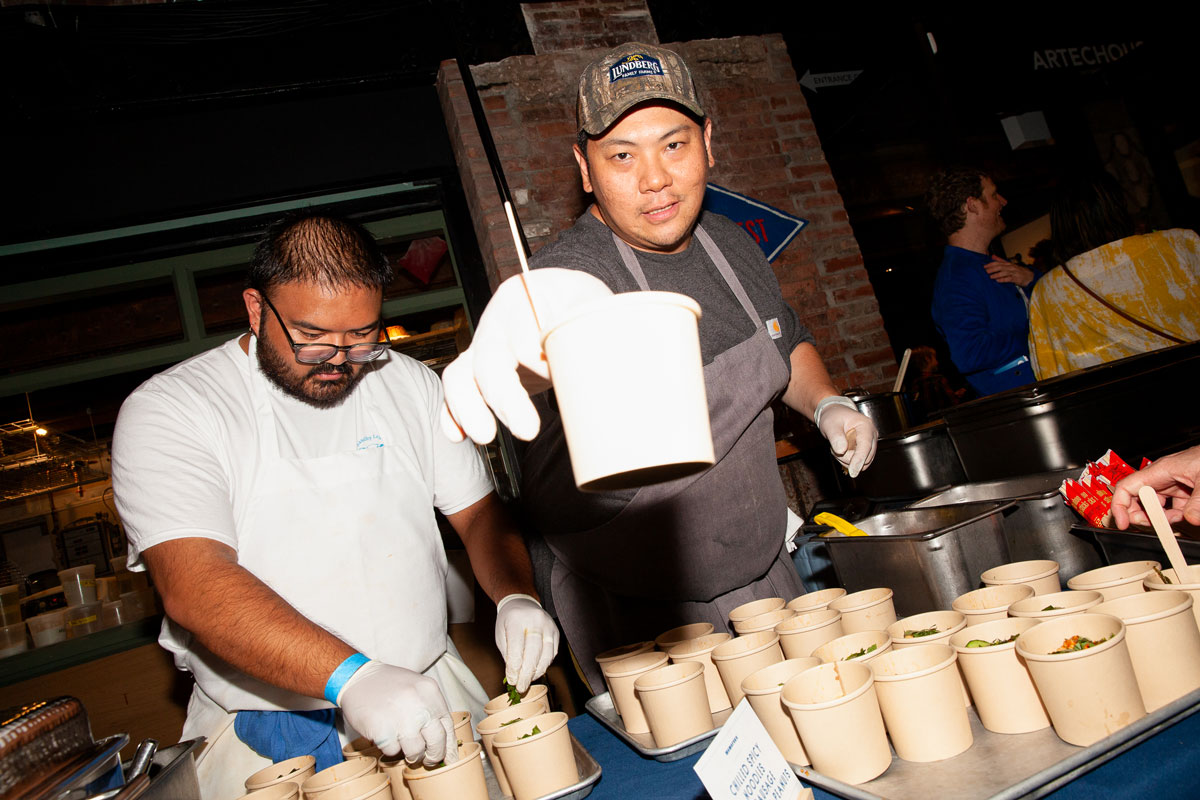 In the center of the massive hall, the ASLF sold raffle tickets and held auctions, awarding prizes that included chef dinners to be held at many of New York City's best-known restaurants.
To drink, wine was supplied by Banville Wine Merchants, Cain Vineyard and Winery, Chambers Street Wine, Corkbuzz, Monteraponi Chianti Classico, and the Red Hook Winery, while beers and ales were being slung at a very busy table manned by Threes Brewing. Throughout all the corners of Chelsea Market's wending retail concourse, specially cocktails were offered by notable shops, distilleries, bars, and restaurants; these include Momofuku, Celestine, Pebble Bar, Union Square Café, Faccia Brutto, Gramercy Tavern, Claro, Ford's Gin, Interboro Spirits and Ales, Heritage Foods, Leland Eating and Drinking House, and Le Rock. There were also several tables, such as Non's, offering non-alcoholic wines, cocktails, teas, and artisanal coffees—even with so many attending this event, no one went thirsty.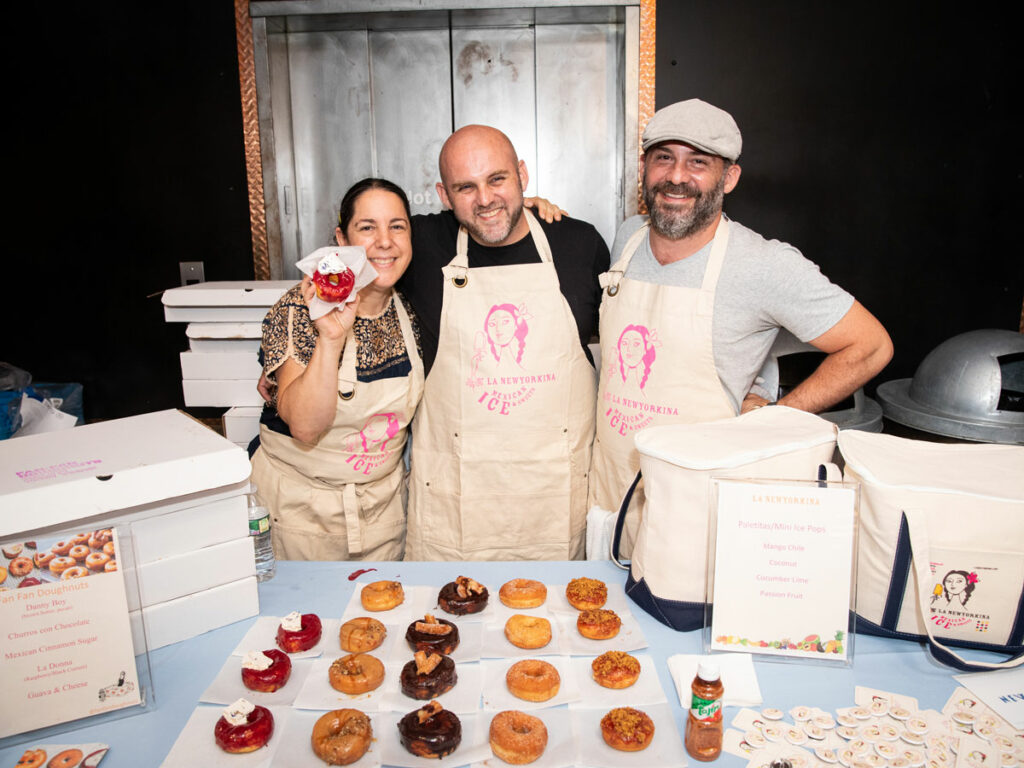 Throughout, attendees tucked into all sorts of baked and sweet treats from Economy Candy, Fat Witch Bakery, Doughnuttery, Clinton St. Baking Company, Li-Lac Chocolates, LMNOP Bakery, Pain D'Avignon and Pastryschiff. At the end of the long, winding halls of Chelsea Market, as the crowds spilled out onto the street, L'Arte Del Gelato was handing out cool, Sicilian treats. Attendees emerged well fed, well fêted, and fired up about the future of sustainable agriculture.

You can include ASLF in your end of year giving by visiting their website: annesaxelbylegacyfund.org